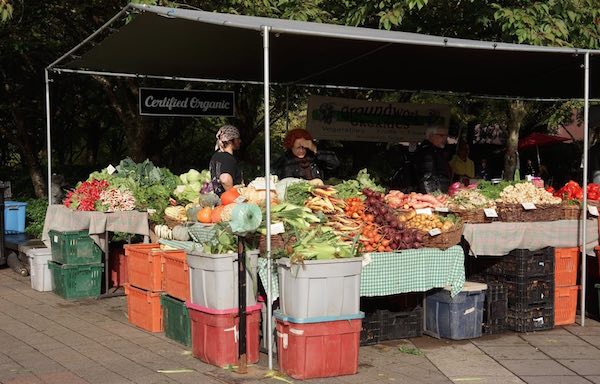 Imagine strolling outside not far from where you live and being able to pick apples right off the tree, pulling full grown carrots right from the ground, and enjoying a delicious handful of strawberries picked fresh from the vine. That's the concept of a farmers market.
A farmers market is a retail market set up in booths, tables or stands, that allows the farmer to sell directly to the consumer. No middle man. No waiting days of weeks for the delivery of food. The farmer picks it, drives and sells it usually within a few hours.
Not so long ago, that was how most people ate. Back before we had sophisticated production lines that allowed us to deliver things in hours rather than days or weeks, whatever foods were grown in the local region were either enjoyed by family and friends, or taken to the local general store where it was bartered or sold to others within the community. As the industrial revolution began sweeping across the world, we discovered we could grow food faster, harvest is sooner, ship it easily within a few days, and transport food anywhere in the world. Which meant we could enjoy all kinds of food all year through.
The benefits of a farmers market are many.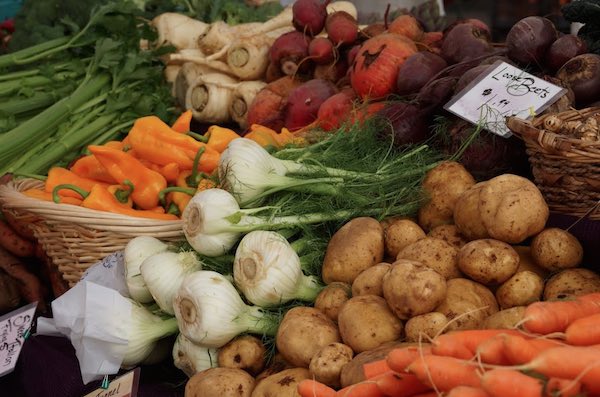 To the farmer, it means they can sell directly to the consumer, bypassing the middle man or selling to large stores. Because they sell direct, they can allow food to mature and ripen longer on the vine, giving a richer, more nutrient filled product as well. The produce spends less time in transport, less time in storage, less time in refrigeration, and is therefore fresher when it winds up in your home and on your table.
To the consumer, it means fresher, healthier food for your family. Because you are buying direct from a farmer, you can get to know who is growing your food, how they are processing it, and have access to a wider variety of foods than you'll ever find at they typical grocery store. Because farmers markets are fresh, farmers tend to care more about what they produce and how they present it to the people in their local community. Meaning they will prepare more organic, pasture raised, cage free, handmade or heirloom products that also are better and more nutritious for you. It's a way to meet your neighbors and begin to develop relationships with those around you, creating a stronger, tighter sense of community.
When you go into your local grocery store today, you'll usually find a limited selection of produce and fresh foods simply because of demand. A supermarket is designed to sell to the masses. It buys cheap, buys in bulk, and is looking for items with fast turnover and low spoilage rates. Rather than getting into specialized products, it sticks with the norm. You'll find very few options when you look at the overall selection – take apples for instance. You'll find the standard delicious, granny smith, and possibly one or two others, such as fuji or gala.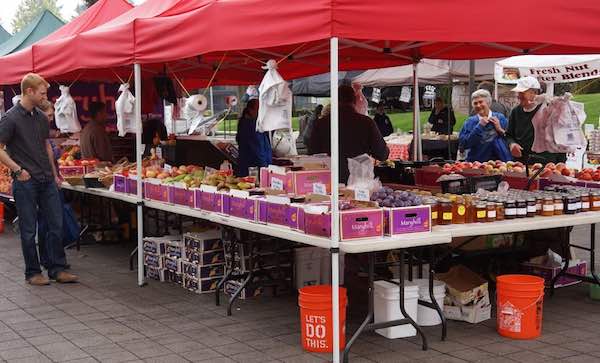 But when you head to a farmers market, you may see unusual selections that you've never tried before.
Get to know your farmer
When you visit a farmers market, you are usually speaking with people that work directly on the farm. In some cases it may be the owner; it almost always is someone who works with direct knowledge of what goes into the process – from planting, to growing, to picking, to deliver.
While many vendors you'll meet care about the quality of what they sell, there have been instances where vendors purchase from other vendors and sell them as their own. So consider asking questions before you buy.
How long has the farm been in business?
Where is the farm located?
When were the fruits and vegetables here at the market harvested?
What pesticides/fertilizers were used in the process?
In a very short timeframe, you can determine how hands-on the vendor is with production, and what type of processes were used. As a consumer, you may also learn some interesting facts about the area, and even be able to get "insider" information as to crops that will be appearing in the near future.
Just like in the grocery stores you visit, a farmer can't make a statement like "certified organic" or "pesticide free" without the support and documentation behind it. Look carefully at a vendor's table – do they have signs announcing certification? If so, they should be able to tell you how long they've been certified, and how it impacts the foods they are selling to you.
How to find them
Because farmers markets are a growing trend, if you have them in your neighborhood, they are usually easy to find.
When we moved to the Pacific Northwest last year, Oregon makes a big deal about their farmers markets. In fact, the town we chose to rent in has banners up announcing their Saturday morning farmers markets from May through October.
Depending on where you live, they may be easy to find. But even when we're traveling, we like to shop at farmers markets as much as possible. There are a few ways to find them, and hone in on when and where they will set up next in the community you are planning on visiting.
The USDA tracks farmers markets across the US, and has put together an extensive Farmers Markets Directory Search. This is a great list to help you find places that have at least two vendors in attendance, and should point you to the when/where details you'll need to find it.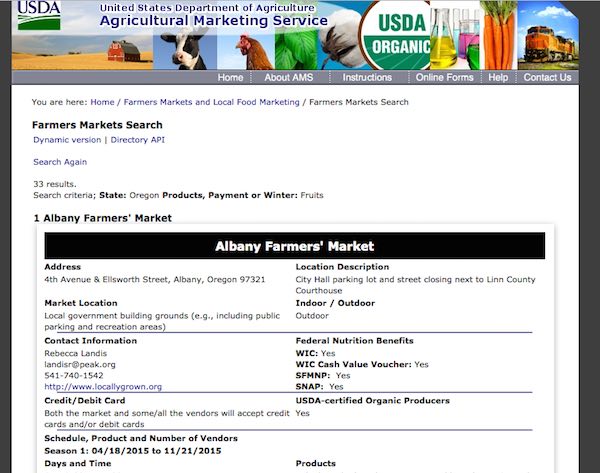 The National Farmers' Market Directory is another place that allows you to browse by location or by product, and helps connect you with over 7000 farmers markets across the country.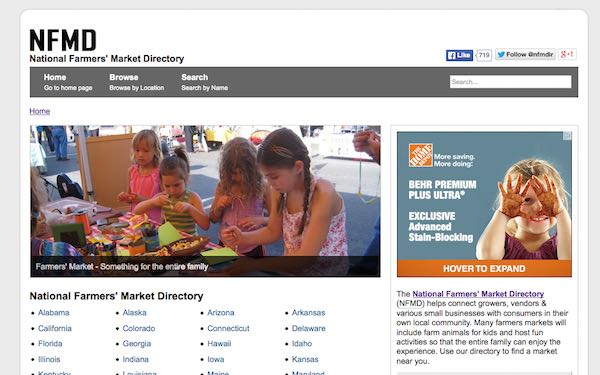 Plan to visit the best of the best. All across the world, there are pristine farmers markets that tout to being the best in the world. These places aren't just known for picking up a work's worth of food on the weekend; they've become tourist destinations in their own right. Get inspired by looking and Food And Wine's list of 25 of the best in the world.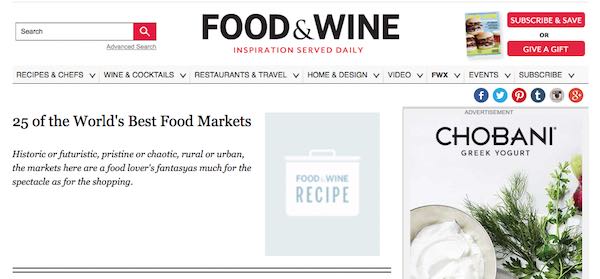 After visiting Mercat De La Boqueria a couple of years ago, I can attest to how wonderful they truly can be.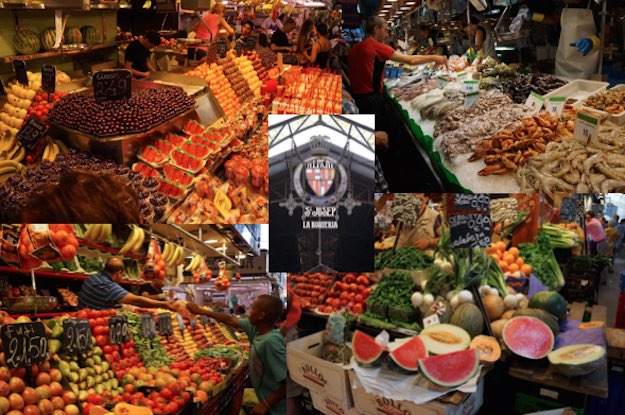 Or do a simple Google search for your local area. With simple searches, you can quickly find the closest place you'll find the freshest of foods within your local community.
Is a farmers market better or the same as organic
Just because someone has taken the time to set up a booth at a farmers market does not make it organic fruits and vegetables. If you choose to buy only certified organic products, make sure you ask each vendor if they sell certified organic products.
There are some farmers who do use legitimate organic growing practices, but choose not to go through the certification process. If they are selling exclusively to farmers markets, it may be the easiest way for them to develop a relationship with those in their community, without having to go through certification. If they make a claim to be "natural", "chemical free", pesticide free" or "no spray", it is something they may choose to promote, yet have no true claims that can make it verifiable. (At least at the farmers market you are attending.) Using your own judgement is the best way to approach each vendor. Are they happy to share their growing processes with you? Will they speak openly about they handle pests and weeds? The more "natural" and "chemical free" a vendor chooses to be, the more open they usually are about sharing their approach to farming with you.
Another way to approach how truthful a vendor is will be to determine if what they are selling is truly in season within the local marketplace. If a vendor sells produce that hasn't had the time to mature in your local region, you may be dealing with a vendor that purchases from other sources, and sells it as their own.
Ask questions. Ask to visit the farm. If they aren't happy to give you a tour, or welcome you to stop by, they may have more to hide.
How long to store each item
When we come home from the farmers market, bags in tow, we quickly find our countertops and refrigerator filled to the brim with good food. But nothing is more disheartening then heading back to the fridge a few days later, planning out a meal based on what you've purchased, only to find your produce shriveled and in no condition to use to complete your recipes.
A while back I learned that different vegetables emit a different type of gas through the ripening process. If you store veggies with different ripening process together, it can speed the ripening process, giving you less shelf life for your produce. The Organic Authority puts out a convenient food storage guideline that helps you understand life expectancy of each fruit or vegetable you buy, and the best place to store it until you can use it.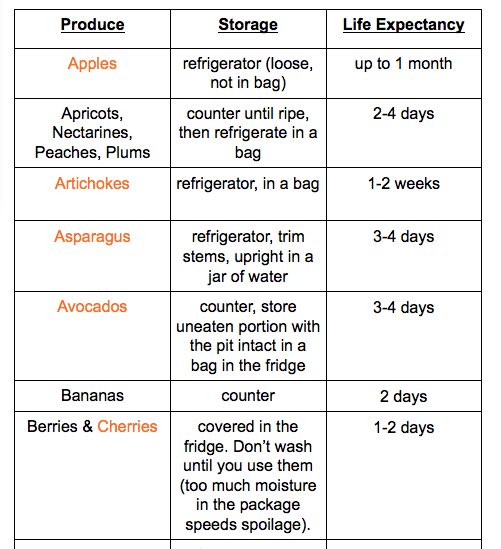 The best way to use all of your produce is to simply buy what you need. Go with a shopping list in hand, and don't be tempted by the extras … the things that you didn't plan on, yet look oh to yummy to pass by.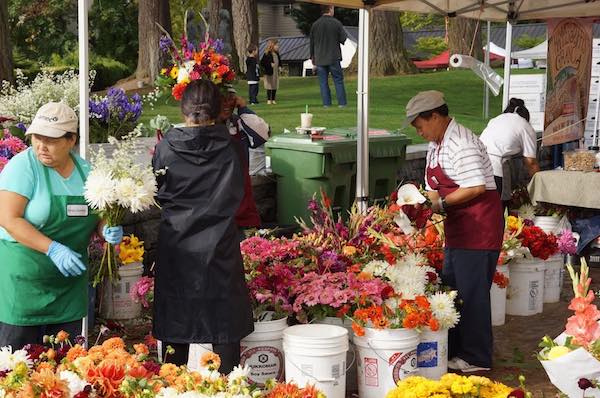 Is it just about fruits and veggies?
No way! Depending on your location, you can find anything you use to feed your family on any given day. Some vendors may sell fresh eggs and butter. Some may sell grass fed beef. In ocean or river communities, you may find the freshest seafoods available.
We currently live in a community that harvest flowers along with fruits and veggies. I can't tell you how many fresh bouquets I've enjoyed, knowing they were picked fresh just a few hours before.
I've also found a variety of "start up" companies just beginning the process of getting their products recognized by people within the community.
One of the best jams I've ever had came from a local farmer a few miles from our home. Last weekend a local handcrafter was there selling a new line of flavored hummus … yes please. And of course with as popular as farmers markets have grown to be, in the back are several restaurants providing a sampling of what you'll experience if you visit their restaurants for a meal. We found one of our favorite restaurants – Verde Cocina – a fresh Mexican restaurant that emphasizes local and seasonal produce.