I love cereal. I was brought up on cereal. I remember the days when Super Sugar Crisp and Quisp (remember that one?) were my all-time favorites. I progressed into raisin brans and granola as I aged. On most days you'll find a bowl of cereal in front of me every morning; occasionally they'll be my dinner if I have a late meeting.
Then I read the book Salt, Sugar, Fat by Michael Moss. The chapter on breakfast cereals made me change my opinion forever.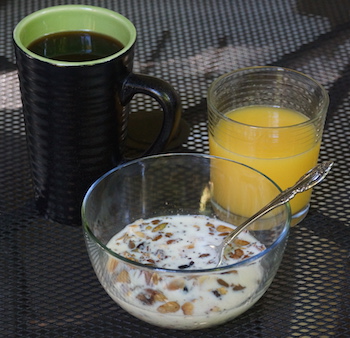 While cereal can be made up of some fairly good ingredients, an equal amount of bad ingredients will leave you wondering what you're truly eating. And really, do any of us need THAT much sugar!?
And it's not only what's in the cereal, it's also how high it's priced. The better the cereal is "supposed" to be, the higher the price rises. I soon began questioning the entire process, and thinking there must be a better way.
Which is how I developed my go-to cereal; the one we all eat every morning. It's all natural, made with real ingredients, and tastes great too. You can make it in a large batch that will easily last a family several days. And the best part about it is you can mix and match your ingredients to create a new taste every time.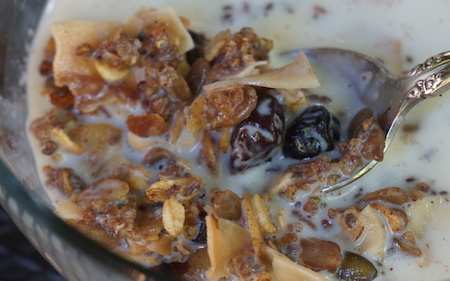 Quinoa Cereal
2015-06-30 14:18:59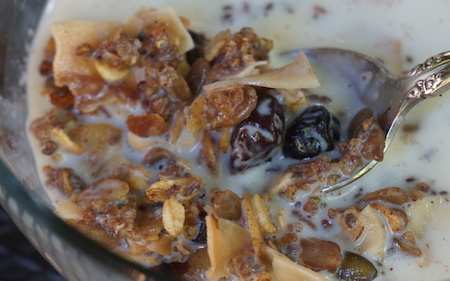 Ingredients
1 cup quinoa
1 cup organic oats
1 cup whole almonds
1 cup dried cranberries
1 cup chopped pecans
3/4 cup chopped walnuts
1/2 cup flax seed
1 tbsp cinnamon
honey
Instructions
Preheat oven to 325°F.
Cook the quinoa according to the package. Allow to cool slightly.
Mix in a large mixing bowl the oats, almonds, cranberries, walnuts, flax seeds, and cinnamon. Add the quinoa and mix thoroughly.
Line two cookie sheets with parchment paper. Spread the quinoa mixture on both cookie sheets, spreading it evenly across the pans. Using a natural honey or a bee-free option, squeeze the honey evenly over the cereal. More honey means sweeter cereal.
Bake for 15 minutes. Take pans out and mix the cereal and spread it out. Return to oven for 15 minutes more. Repeat mixing process. Return for a final 10 minutes.
Cool and store.
Serve with vanilla soy or almond milk.
This recipe allows you to add and change as you desire and based on your tastes. Things you can change/add/include
1 cup dried blueberries
1 cup dried cherries
1 cup coconut
1 cup pumpkin seeds
1 cup sunflower seeds
1/2 cup chia seeds
1/2 cup cacao nibs
TheVeggieTraveler.com - Eating Healthy Vegetarian and Vegan All Over The World http://theveggietraveler.com/