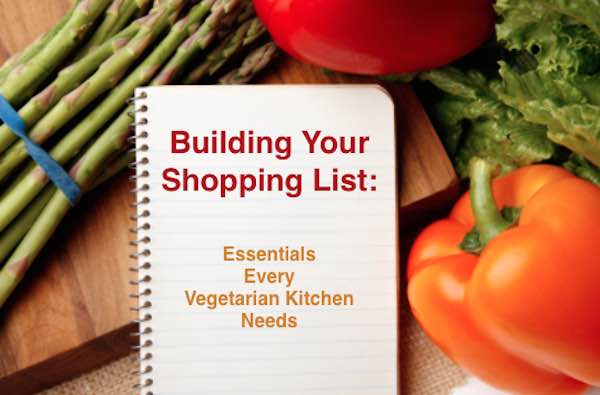 I had an interesting conversation the other day with my daughter about something I never anticipated when switching from an "anything" diet  to a vegetarian diet.
When I ate "anything", I recall two feelings that I had on a regular basis.
The first was hunger pains. Yes, those tiny pains inside that said I was truly missing something – I was hungry. And the only way to make them go away was to eat food.
The second was that bloated feeling you get when you've eaten too much. You know what I'm talking about; that feeling you get after gorging yourself on Thanksgiving day, consuming way more than any person ever should. You have that "pop the button on your pants, lay down because you feel like you're going to explode" kind of feeling.
Here's the thing; after I started eating a vegetarian diet, consisting of truly good foods, I never have had either one of those feelings again. It did take a while for that feeling to ween its way out of my system. But once I began eating organic, good quality, healthy vegetarian diet, I have never eaten enough to get that bloated feeling. And because I'm snacking several times a day on quality fruits, vegetables and grains, I very rarely experience the feeling that I'm hungry.
Could it be that when your body gets what it wants, it doesn't have a reason to "talk" to you about what its missing? Hmmm…
A year or so ago, I had a conversation with a friend who was desperate to lose weight. He knew he was obese, and in his 40s, was already having medical problems. But he was hungry all the time. And hunger to him meant pulling a bag of chips out of the pantry, or heading to his favorite fast food drive thru window for a sandwich or three. He couldn't help himself; he was hungry.
He tried reducing his dependence on processed foods. He tried limiting the number of times he went through the drive thru each week. But nothing ever worked; he was hungry, and he always returned to the pantry or the drive thru, which ever was more convenient at the moment.
What's really happening in a case like this?
Now I'm not an expert. I'm not a dietician, a nutritionist, or a doctor. I don't have the medical vocabulary or the background to define the problem in its entirety.
But from reading countless books on food, watching a lot of documentaries, and attending as many seminars on nutrition as I have, I have my sneaky suspicion.
The potato chips and fast foods my friend was snacking on are empty calories. They aren't providing him with the nutrition his body needs. So when he sends the food down, his stomach – his body – retaliates and says "yuck, I don't want this stuff, give me something else". And it talks back.
Does it take time? Of course. The first time you send down a nutritious organic, gmo-free salad made from quality vegetables and fruits, your body is going to say "huh"? It'll wake up a little, notice something is different, then go right back to your old patterns. It'll happen again and again until something changes.
Is this over-simplified? Of course. This is simply what I know happened to me – my take on everything I've learned. All I know is right now, I haven't had hunger pains in years. And no matter how much food I consume, I've haven't gotten to that "bloated" feeling in a long time.
That's what works for me.
Lets face it, it you want to change your eating patterns and eat healthier, you're going to have to make a few changes around the kitchen. Eating healthy isn't the same as eating an "anything" diet. And if you truly want to go vegetarian, there are many things you will have to change about the way you eat at home.
Yes, a lot of those processed foods won't do it anymore. But I promise that eating healthy vegetarian style doesn't mean you'll spend hours in the kitchen. You'll simply have to change the way you stock your kitchen, and change the way you eat from morning through night.
Where do you begin if you want to make a vegetarian diet and healthy eating a part of your life? Start with a garbage bag. Yep, a great big garbage bag that you can go through your pantry, your refrigerator, and your cupboards and throw everything out that no longer qualifies as healthy.
Side Note:

I don't watch much tv, but when we pull our Netflix to relax a little, I'll always head over to House Hunters International. I love getting an inside peak at houses around the world. Anyway, the one thing I always laugh at is when an American looks at houses anywhere else on the planet. The American always makes a comment about how small the refrigerator is, and the real estate agent always comments about Americans need for a lot of space. I laugh every time.

If you move to a healthy vegetarian diet, you no longer need a lot of space in your refrigerator and/or freezer because you start eating fresher. You visit the market more. You buy things you can cook immediately, and only store a handful of staple items that can help you along the way. Maybe the rest of the world has it right that we don't need monster refrigerators … just eat fresh instead.
The potato chips? Yes. Cookies? Yes. Candy? Yes. Meat? Yes. Just get it all out of there. That basically means anything prepackaged and bought from the internal shelves within your grocery store.
Then it's time to stock your pantry and refrigerator instead.
Beans
Kidney
Black
Pinto
Garbanzo
Cannellini
Legumes
Lentils
Edamame
Tempeh
Tofu
Grains
Brown rice
Jasmine rice
Oats
Quinoa
Spelt
Barley
Flour/Baking
Whole wheat
Almond flour and almond meal
Cornmeal
Baking soda
Baking powder (aluminum free)
Nuts
Pistachios
Pine nuts
Walnuts
Almonds
Cashews
 Dried fruits
Raisins
Cherries
Blueberries
Cranberries
Dates
Coconut
Herbs and spices
Allspice
Basil (fresh and dried)
Bay leaves
Black pepper
Cayenne
Chili powder
Chipotle
Cilantro (fresh)
Cinnamon
Cloves
Coriander
Cumin
Curry
Garlic powder
Ginger
Nutmeg
Oregano
Onion powder
Paprika
Parsley (fresh and dried)
Red pepper flakes
Rosemary
Sage
Salts
Tarragon
Thyme
Turmeric
Vanilla
Sweeteners
Maple syrup
Organic pure cane sugar
Noodles
Soba
Rice
Quinoa
Whole wheat pasta
Oil
Vinegar
Apple cider
Balsamic
Rice
Champagne
Coconut
Red wine
White wine
Seeds
Flax
Chia
Pumpkin
Sunflower
Sesame
Sauces and condiments
Vegetable stock
Miso
Tahini
Sriracha
Chili paste
Tamari, soy sauce or shoyu
Tomatoes (cans of crushed, diced, paste, sun dried)
Salsa
Lemon juice
Lime juice
Unsweetened applesauce
That's my list. But don't just use mine, take a look at these too. As I was stocking my own pantry for the first time, I looked through lots of lists to find the benefits of certain ingredients, and what I should keep on hand. (Plus by looking at these lists, you'll find a few more resources to help you move to and stick with a healthy vegetarian diet.)
Other Shopping Lists You'll Find Useful: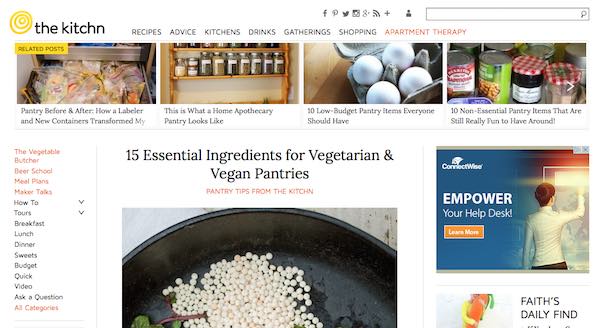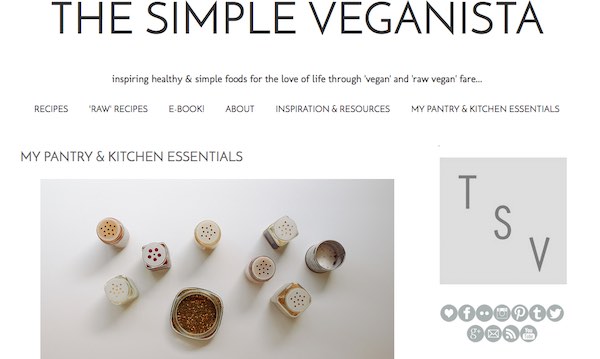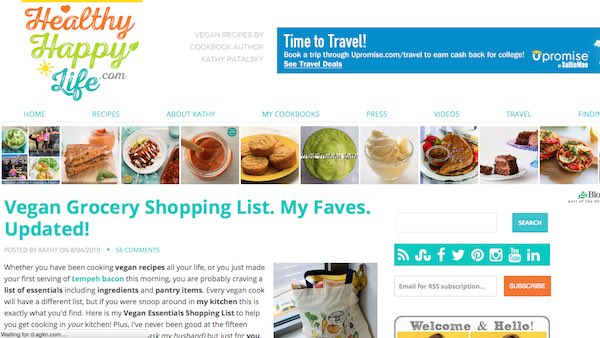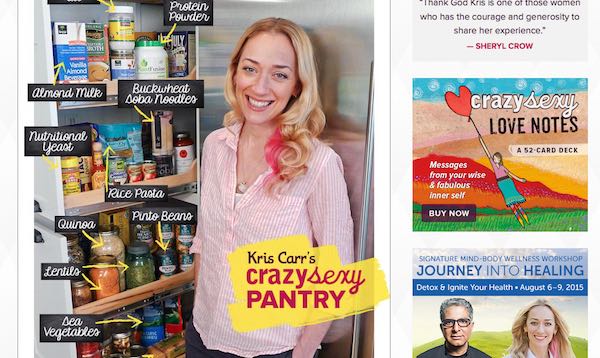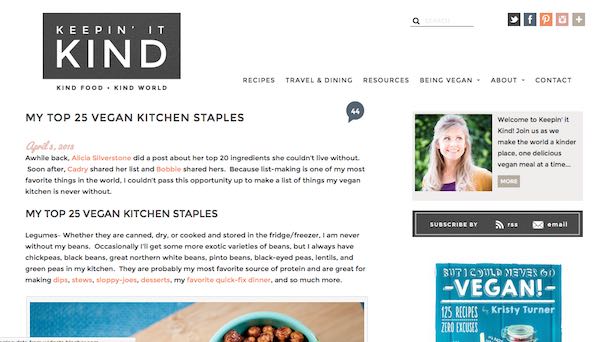 These are things I use on a regular basis. When I use these up, they go right back onto my grocerylist to be replaced. In many cases, the hardest part of changing the way you eat is being prepared when you're ready to eat.
Get rid of the bad, make sure the good is on hand, and you'll quickly develop new patterns in the way that you eat everyday.
Plus you'll feel better too!