It seems everyone who is not vegetarian has one concern about going vegetarian:
Protein
Because most people believe that you can't get protein into your diet unless you are a meat eater. But you can, and you do. Protein isn't just in meat. It's in a wide variety of foods, things a vegetarian with a well-balanced diet eats every day.
Let me ask you another question. How many people have you met that have suffered from protein deficiency? What's that? Never met one before? That's because they are difficult to find in our modernized nation.
Protein deficiency diseases are out there.
Marasmus is caused by severe deficiency of protein and calories that affect infants and very young children due to starvation and lack of essential nutrients. You'll find this in developing countries, not in our western societies.
Kwashiorkor is caused by a severe deficiency of protein in diets that contain calories mostly from carbohydrates such as yams, rice, and bananas. It usually affects older children, and is most common … in developing countries.
Cachexia is a condition that involves protein deficiency and is associated with cancer, AID, chronic kidney failure, heart disease, COPD and rheumatoid arthritis. In other words, you already have other major health problems, and protein deficiency is a side effect of the disease.
Protein C and Protein S Deficiency Both protein C and protein S are inherited conditions that cause abnormal blood clotting. They aren't based on diet; they are based on genes.
Bottom line is you can get enough protein with a vegetarian diet, providing you are eating a well-balanced meal.*
So in this world of "protein obsession", is it possible to get too much? Is there such a thing as too much protein?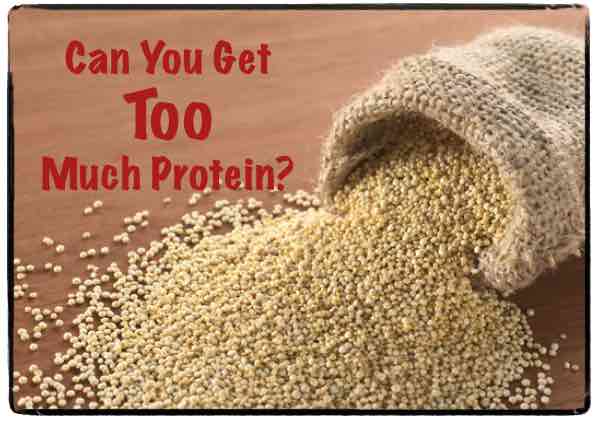 People need sufficient protein because it supplies amino acids that our bodies can't synthesize on their own. Together they give us the essential building blocks we need to maintain muscle, bone, skin and other tissues, as well as create an array of vital hormones and enzymes.
The average adult can achieve the recommended intake fairly easily by eating a moderate diet of protein-rich foods. For an adult woman, that means 46 grams of protein a day, and for an adult man, around 56 grams. With 20 grams in a cup of tofu and 18 grams in a cup of lentils, you can see it won't take you very long to hit your goal.
And with the size of American meals ever-growing, and our consumption of food on the rise, it's more than possible for the average adult to double, even triple the recommended daily amounts every single day.
According to the National Health and Nutrition Examination Survey, we're eating too much protein. The average man is now consuming about 100 grams per day. People think carbs are our enemy and protein is our friend, but that may simply be shifting health issues in another direction.
Because a body can only use so much protein at a time. It can only digest 20 to 40 grams at every meal. And if your meal is made of almost entirely of protein, you're robbing yourself of other macronutrients that the body needs, like whole grains, fats, fruits, and vegetables.
High protein, low carbohydrate diets may promote weight loss and help preserve lean muscle, but that may only be for the short term. The longer you maintain that diet, the more at risk you may become of things like heightened risk of diabetes, loss of muscle mass, damage to kidneys, possibly even a higher risk of cancer.
High protein intake, especially in animal format, tends to make cells multiply faster. And while that may work while you're young and healthy, that's also what puts you at greater risk of cancer as you age.
What should you eat?
A key factor in maximizing your nutrition is taking in the right balance of nutrients. That means carbohydrates, proteins, and fats. For most Westerners, we consume far too many proteins and carbohydrates, without enough of the healthy fats. Try these for a good balance:
Hemp Seeds (Hemp Hearts) – they are packed with about 33 percent protein, providing 11 grams per three tablespoons. They also contain all 20 amino acids, are easy to digest, and are loaded with omega-3 fats.
Chia Seeds – they contain about 14 percent protein, providing 4 grams per three tablespoon serving. They are also high in omega-3 fats.
Spirulina – this blue-green algae springs from warm, fresh water bodies, and provides about 6 grams of protein per 10 gram serving. It contains 18 of the amino acids and all of the essentials.
Sprouts – beans, nuts, seeds and grains have higher quality protein and more fiber content when sprouted. Sunflower sprouts provide some of the highest quality protein you can eat, and give you abundant iron and chlorophyll. Kamut, hemp, quinoa and bean sprouts are also good sources.
I was having dinner with an acquaintance. When she found out I was vegetarian, the conversation started once again.
"I could never do that because I need my protein. I get sick and have headaches if I go without meat. I'd love to be able to get away from so much meat because it leaves me feeling bloated, constipated, and groggy. But I need the protein."
I mentioned all the different foods you can eat and get protein. Some she didn't like. Most she'd never tried before. "I've always been a meat and potatoes person."
And there lies the problem.
It is possible to receive an adequate level of protein, but you'll have to vary the source of food intake to a variety of different foods.
Limiting yourself to only one type of food can and usually does cause you trouble down the road.
Think well-balanced instead. The more you structure your diet to include many types of foods, the better your health will be. The more you stay away from processed, eating only foods as nature created them, the more balanced your nutritional intake.
*Always check with your doctor before taking any advice on diet or health. All of the opinions in this article and on this site are expressly my own after years of research and living as a vegetarian.