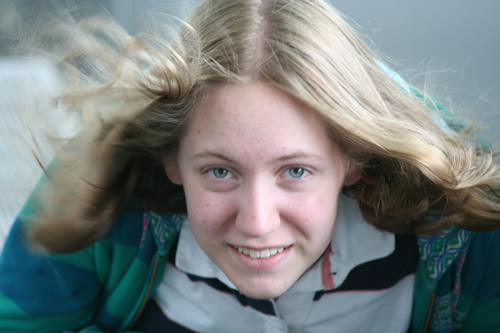 I remember when my three year old daughter announced she was a vegetarian, I laughed to myself and said, "sure, okay". Then I proceeded to give her "vegetarian" turkey slices from the deli figuring she would eventually grow out of the vegetarian phase.
I knew I was in trouble a couple of years later when she glared at me from across the table, asking me if it hurt the chicken when I stabbed it with a fork.
Not only did she refuse to eat meat, we got in mini "wars" over what was served at dinnertime. She continually called us out on the ethics of eating something that was once alive, moved around and had feelings. We worried about good nutrition and protein – we didn't want her little body deprived as she grew.
So we eventually came to a truce – when she was around five years old.
We agreed to give her only vegetarian meal options along side of our meat dishes.
And so the double cooking started. If we grilled chicken, I would make sure we had a couple of great side dishes that included pastas and salads. I introduced tofu and black bean burgers. We worked in legumes wherever we could. I bought vegetarian cookbooks and books for raising a health vegetarian child. I researched, experimented and learned along the way.
As the years rolled by, I discovered there isn't much difference between raising a healthy vegetarian child and a healthy child who eats meat. As a parent, you worry about what your child puts into his or her body and how it will impact them for the rest of their lives. What's most important overall is creating a health eater – what they choose to eat isn't as important as teaching them good habits that will last a lifetime.
Step One  – Provide Self Awareness
Food is the one vice we have to live with from the day we are born to the day we die. We can't give it up or do without it. It can become our strength or our weakness.
I grew up struggling with body image throughout my middle and high school years. That's common in girls – in fact I've seen reports that say 90 percent and more of today's girls face body image problems at some point in their lives. When my daughter was born, I desperately wanted to avoid body image issues, so I began my research. I avoided words like "diet" and "weight loss" like the plague. Instead I focused on eating healthy and learning what foods do for you instead. Yes, you can eat treats as long as it's balanced. We created pleasant mealtime atmospheres in which food became a joy, not a burden.
Whatever your own thoughts, put it into perspective for your own child. What is the real purpose of food within your home? Is it a time of joy and coming together as a family? Is it something you do as you run from activity to activity? Or is it something you hide from each other?
Whatever you think, whatever you do, your child will notice and respond.
Step Two – Avoid Power Struggles
Did you have a strong willed two year old? The first thing I learned when it came to picking out clothes for the day was to never give too many choices. "Would you like this shirt or that one?" became a common phrase. Two choices, that was it. It made her feel happy to have a choice, yet not completely overwhelming for a two year old's brain.
We took the same approach to food. In many cases I would include her in on the selection process – should we have spaghetti or lasagna for dinner tonight? When she took ownership of the choices, she was more likely to eat the food.
Yet once we sat down at the table and the plate of food was in front of her, she made the choices. Would she eat the lasagna or spaghetti? Would she enjoy the side dishes? Would she eat more than our "one spoonful rule"?
We didn't fight about it. We assumed if she was hungry she would eat. And it always worked. If she didn't eat, she never came back 30 minutes later saying she was starving. We didn't let her snack outside of mealtime – except at appropriate times.
We didn't bribe – if you clean your plate you can have a treat. Treats were part of the meal and were rare. She knew when dinner was over, it was over.
Step Three – Take Ownership
At certain times of the day, children are hungry and they want a snack. Instead of saying no, we established acceptable snacks that were within her reach. She knew she could open the refrigerator and grab a few snap peas or carrots. She could reach into the pantry and grab a box of raisins or animal crackers. Her snacks were within reach, and she had access to them – at appropriate times.
From a early age, if a child is allowed to make choices and understand what those choices do for them, she is more likely to pick appropriate choices. She will know an apple is better than a cookie. But if you do it within reason, the occasional cookie is okay. Better yet, if you bake it yourself, you are in charge of what goes into the cookie.
Step Four – Put Them In Charge
If you don't teach a child how to cook and bake, they will never be able to do it as they grow up and move into their own homes, and have their own families.
From an early age, kids can help in the preparation process. They can stir while you add the ingredients. They can help you pick out produce at the grocery store. They can measure out the flour and sugar. They can lay out all of the vegetables on the salad plate.
When a child makes choices and is a part of the process, they feel more connected overall to the family. And because they are more involved, they are more likely to eat it.
Step Five – Enjoy and Keep Trying!
Yes, we went through the "cheese phase". During the middle school years I could barely get her to eat anything more than a cheese dish – mac and cheese, grilled cheese, cheese sticks, etc. It was enough to drive anyone crazy.
But along side her grilled cheese sandwich or plate of mac and cheese, I would slide in a side dish or two and require her to "try one bite" of everything. I'm not a person who believes in cleaning your plate or eating something you hate because of the "starving children in another country" concept. To me, food should be eaten because you enjoy it. So we required her to take one spoon or fork full of everything on her plate at every meal. At one point she declared broccoli was the worst food on the planet. A few months later it was her favorite vegetable, all because she kept trying it over and over again.
Which is exactly how our relationships with food should be. Healthy and satisfying for a lifetime.