When my daughter was 3, she officially declared herself a vegetarian.
Of course as a meat eater, I nodded my head in agreement, and proceeded to give her "vegetarian" turkey from the deli, and "vegetarian" chicken for dinner.
Until the day she figured it out. Yep, you can't keep that away from a child for too long; they quickly learn your tricks.
By 6, she knew exactly what vegetarian meant, and she knew enough to start fighting with me daily on the food that I supplied. If it had meat, she wouldn't eat it.
Yet on the other side of the spectrum, my daughter was the only one who was a vegetarian. My husband and I still ate poultry and fish. How do you eat together as a family and not spend the entire day in the kitchen cooking?
Start Slowly
While your meat eaters aren't going to be happy about giving up their burgers and chicken, your vegetarian shouldn't have to suffer by eating "cheese" or some other protein substitute at every meal. Plan out your meals the way you've always done it in the past … with a twist. If you typically create a meal of a chicken breast, potatoes and a salad, head to your local supermarket and find a "chicken breast substitute". You'll find many soy products in the chilled or frozen sections that resemble their meat counterparts. If you make a chicken breast for the meat eaters, make a "chicken breast" for your vegetarian. Just make sure your vegetarian understands the differences.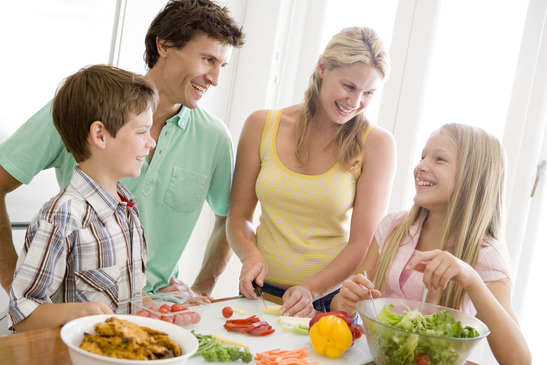 Look For Common Ground
While you may be making two separate proteins at every meal, you can make the rest of the meal perfect for every member of the family. Look for vegetarian cookbooks that offer a wide variety of salads and side dishes perfect for the both of you. You'll even expand your palate along the way.
Incorporate Vegetarian Into Your Diet
A meat eater can go one meal without eating meat and they will be just as happy. But you can't expect a vegetarian to eat meat. So use that to your advantage when you plan your meals out for the week. Ever heard of Meatless Monday's? Create one day a week where you plan a dinner with zero meat in the menu. Then turn one day a week into two. And two into three. If you still love your meat, you don't have to reach for seven days – settle for two or three. You'll learn to enjoy a variety of new meal choices, and make your child feel like she's equally as important in the meal preparation process.
Build Your Own
Kids will always eat better if they help prepare their food. Which is why you can easily develop a "build your own" mentality when developing your weekly meals. Plan a meal where you can bring a variety of options to the table and let everyone build their own. Think tacos, burritos, or "taco" salads. Or try rice bowls where you choose the toppings. Or how about build your own homemade pizzas. Just make sure you have plenty of options for everyone.
Plan For Extended Family Meals Too
While it's easy to make adjustments to your weekly family dinners, it's a little more difficult when you head out to extended family gatherings. In some cases they even have trouble understanding what vegetarian really means, never mind trying to incorporate it into their meal planning techniques. Instead of having to feed your child before or after the get together, and letting them feel out of place at the gathering, offer to bring some alternatives instead. You can easily bring a crockpot full of soup, or a big salad to share. Better yet, have the family to your place whenever possible. Then you can control the dinner theme, who brings what, and how it will be presented to your family.