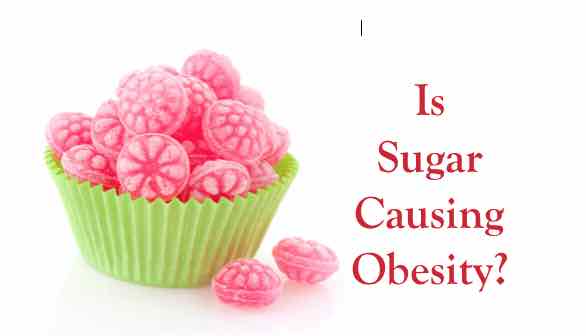 Is it just me or does there seem to be a war on sugar this year? Only a couple of weeks into the new year and my inbox has been filled with all kinds of promises to help you "sugar detox", learn how to get sugar out of your life for good, cleanse without sugar, and dozens of other sugar-free promises.
Looking at the situation, it does look like sugar can be a problem. After all, we eat more sugar than ever before. And as a nation, we're obese like never before. Marry the two together, and it appears the two are interrelated. But are they?
I had to laugh at this declaration.

It seems the Sugar Association has it all figured out. Biased? Hmmm …
How We Consume Sugar
Maybe it stretches beyond sugar in general, and it coincides with one particular sugary product. According to Harvard School of Public Health, there is a direct link between sugary drinks and obesity. (Sugary drinks include soda, energy, and sports drinks.)
The size of soft drinks has steadily increased. Before the 1950s, bottles were 6.5 ounces. In the 1950s, the 12-ounce can became widely accepted. In the early 1990s, the 20-ounce bottle became standard. Today, we've contoured bottles to maintain its look for individual consumption while raising the amount of liquid inside to 42-ounces.
In the 1970s, sugary drinks make up about 4 percent of our daily intake. By the early 2000s, it had risen to 9 percent.
Children and youth are consuming sugary drinks in higher and higher quantities. From 1989 to 2008, consumption of sugary beverages has increased by a whopping 60 percent, making it as much as 11 percent of their daily caloric intake.
On any given day, half the people in the US consume a sugary drink. 1 in 4 gets at least 200 calories from these drinks, with at least 5 percent taking in 500 calories or more. That's four cans of soda per day.
But don't think for a moment that our sugar intake stops with sugar drinks. In fact, I'm willing to bet you'd be surprised as some of the things that contain sugar – things you probably assumed were low or even sugar-free.
Low Fat Yogurt – some brands can contain as much as 47 grams of sugar
Barbecue Sauce – Up to 40 percent of the weight of barbecue sauce can be from sugar
Ketchup – one of the most popular condiments also contains up to teaspoon of sugar per single tablespoon serving
Fruit juice – there can be as much – or more – sugar in fruit juice as there can be in a can of soda
Spaghetti sauce – spaghetti sauce comes with natural sugar from tomatoes, but many top brand names also add extra sugar as well
Chocolate milk – an 8-ounce glass will bring as much as two additional teaspoons of sugar into your diet
Granola – many granola producers add sugar to give it a better taste, with as much as 6 teaspoons or more added to a single serving
Flavored coffee – you may love your large coffeehouse special, but it can contain up to 25 teaspoons of sugar
Iced tea – if you buy it in a can or a bottle, it can add in up to 33 grams of sugar per 12 ounce serving
Protein bars – promoted as a healthy snack, adding up to 30 grams of sugar or more can make it seem more like a candy bar
Canned or boxed soup – you'll find many pre-made soups come with high fructose corn syrup, barley malt, dextrose, maltose or other syrups, which can add a significant amount of sugar into your diet
Cereal bars – meant to be a quick breakfast alternative, these convenient choices are loaded with sugar and contain very little fiber, if any
Breakfast cereal – some cereals, especially the ones marketed to children, can contain 3-teaspoons or more per small 1 ounce serving
How The Body Processes Sugar
Sugar is a carbohydrate. When you eat sugar, your body either converts it into energy or fat. How your body processes it determines how the sugar is processed. As sugar enters your bloodstream, it goes into your pancreas, which then releases a hormone called insulin. Insulin is your body's sugar regulator. From there sugar is either stored in your liver, your muscles, or your fat cells.
Sounds like an easy process. But our bodies aren't always perfectly working machines. And because our world is anything but perfect, we don't give our bodies perfect energy sources on a daily basis either.
A lot of the foods made, a lot of the foods we consume, are created from highly refined sugar, and our bodies get a rush of sugar we are not necessarily prepared to process. This rush of sugar causes too much insulin to be released, which then causes our blood sugar to drop. And with low blood sugar, the little voice inside our bodies starts screaming, "give me more sugar." We're only too happy to oblige. Thus, we feed the monster, giving it more and more sugar until it is no longer used for energy, but begins storing it in the fat cells for later use.
While you might not notice this spike in insulin and fat cell storage process, your body certainly does. And if you continue to do it month after month, year after year, your body begins to change. It can lead to a variety of problems, including diabetes, cardiovascular disease, kidney disease, obesity, cancers, and much more.
Where Our Sugar Intake Comes From
Yes, we may be conscious of taking sugar in. If you have a donut in your hand, select a piece of cake for dessert, or snack on a candy bar midway through the day, you probably (hopefully) realize you're increasing your intake of sugar. The problem lies with the foods you don't know have sugar. When you think you're doing the right thing, cutting back on the amount of sugar you're taking in, only to find out later that most foods have way more sugar than you realize.
Look back to the list above. Sure, you know a candy bar or a piece of cake has sugar. But did you expect so much sugar in your granola? Did you know your favorite Starbucks drink can have as much as 25 teaspoons of the stuff?
Sugar detoxes are good, but only if you're aware of what you're detoxing from. Sugar detox should be about reducing your intake of sugar from all sources, not just the sweet treats you have at the end of a meal.
What about fruit sugars, for instance? When you bite into a juicy pear or a sweet peach, you are putting sugar into your system. But fruits are a nutrient-dense food that can provide your body with fiber, vitamins and even antioxidants. That's the main difference between fruit sugars and refined sugars.
During processing, refined sugar is stripped of its nutrients, leaving behind only sweetness and calories. It contains no protein, no water, no fats. Calories add up quickly, with brown sugar containing about 11 calories per teaspoon, and white sugar bumping up to 16 calories per teaspoon.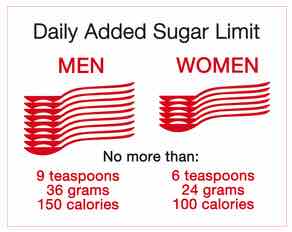 The American Heart Association recommends limiting your added sugar consumption to more than half of your daily discretionary calorie allowance. For most women, that works out to 6 teaspoons of sugar or 100 calories per day, and for men, about 9 teaspoons or 150 calories per day.
My belief is everything in moderation. It's common sense that tells us too much of anything is bad. The more processing something has, the worse it gets.
Be conscious about your selections. Add up your intake to truly understand where you stand. Then make good choices about what goes into your mouth every day.
I no longer take in much sugar in the form refined sugars, and when I do, the sweetness factor overwhelms me. I can barely take it in. I modify recipes to cut or eliminate sugars. I use fruits as most of my sweet treats.
It can happen. You can reduce your sugar intake and still love great foods. It just takes time.
Legal: These are my opinions. I write based on what I know, the research I do, and what I believe to be true. This works for me. It makes sense to me. Feel free to use it if it makes sense to you too.