When Fallon was accepted at two schools in Oregon, we started planning our trip. Not only were we excited to take a look at the schools, but we were also looking forward to learning more about the culture that exists within Oregon. And one of the things we were most looking forward to was the restaurant scene.
Type into Google "Portland Vegetarian Restaurant" or "Portland Vegan Restaurant" and you'll quickly have a comprehensive list of restaurants to try. (Unlike Denver where a half dozen or so show up – most being only vegetarian friendly.)
PETA lists Portland as the #2 vegan-friendly city in the US. And with good reason. We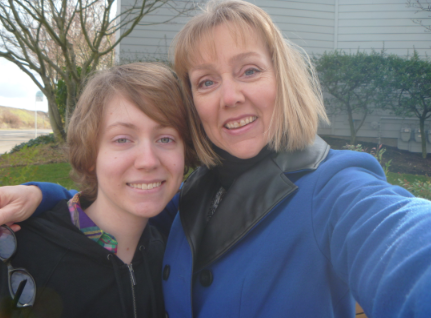 even found fast food vegetarian places. Imagine instead of driving up to McDonald's if everyone would drive up and order a avocado salad instead. Yes, it still may be fast food, but it would definitely keep people healthier than dozens of chicken nuggets entering their systems!
So we headed off to Portland with a list of places in hand.
I love having Siri – plug in the address and off you go.
Three things we noticed as we ate at each place.
1. Vegetarian/Vegan is amazing
When you focus in on making things from natural ingredients and work to create a meal from real foods, the final product tastes fantastic. The flavors come together and make every bite scrumptious.
2. Vegetarian/Vegan does fill you up
When you order a meal, its designed to be a complete meal. Entrees, salad, bread, dessert – whatever we ended up ordering was enough to completely fill us up and leave us feeling satisfied for hours. So many people complain that a simple salad or fruit dish leaves them hungry 30 minutes after eating it. Not true if you design a meal to be a complete offering.
3. Vegetarian/Vegan meals are a way of life.
In one of the vegan restaurants we visited (on Valentines Day), the line was a constant and the place never emptied out in the hour we were there. There were just as many 50-somethings, 60-somethings and 70-somethings as there were teens and 20-somethings. Eating vegan isn't something a certain age does more or is meant for a certain group. Its for professionals and students, retirees and working folks.
But there was one thing we did notice at every vegetarian/restaurant we visited. The friendly nature of employees and patrons. Granted, this could have been more of a Portland thing. But everywhere we visited, the employees went above and beyond in customer service. And even the customers next to us would chat and share things along the way.
Was the vegetarian/vegan atmosphere enough to make my daughter choose one of the two schools we visited in Oregon? I'll let you know in the next couple of months. But it did move them both up on her list.