We live near the newly remodeled The Streets of Southglenn. When it first opened up, we noticed Saj Mediterranean Grill and put it down on our list to try. Of course every time we decided to head out for a bite to eat, Saj never entered our mindsets.
Until Fallon's  holiday break.
After a day shopping at some of the stores, we noticed Saj yet again and put it on our list. Then an impromptu meeting with friends in the neighborhood a few days later made us pull the idea of eating at Saj out of reserve – it was the perfect stop off before our meeting started.
Yes, believe it or not, we had never eaten falafels up until this past summer. Our trip to Spain made us believers, eating two falafel sandwiches during our week stay in Barcelona.
We came back hooked, and soon were searching them out at Whole Foods, and have found several recipes where we are making them ourselves here at home. But finding them at quick casual locations here near us is all the better.
Saj Grill has many options for a vegetarian. And because you choose your ingredients as you order, its all customized to your liking and preference.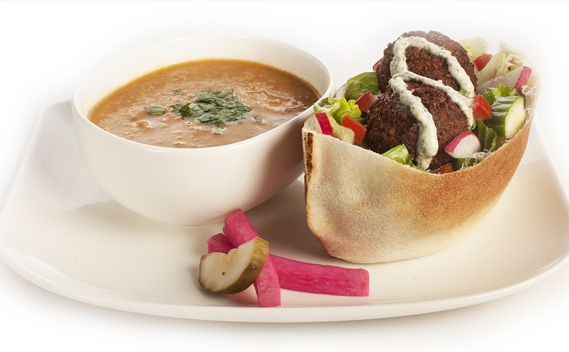 Fallon and I both ordered the Saj lunch special: a bowl of Lentil Soup, a half Falafel Pita Sandwich, and a Water or Drink.
A perfect lunch, great tastes, and a guarantee we'll be back for more.