When we head out to restaurants these days, we prefer to find one that allows us to actually have to look through the menu to decide on something … not find something. So I've created a list of "places to visit" and I pull that out every time we're out doing something and need to find a great restaurant for lunch or dinner.
Since we were heading to a meeting Downtown this weekend, I pulled out my list and found one fairly close to the hotel our meeting was taking place in.
WaterCourse Foods uses the tag line Serving Vegetarian Comfort Food Since 1998. Since they've been around that long – and some how we missed adding it to our list before – we decided it was the perfect place to try for dinner.
At 4:45 in the afternoon, we had a 15 minute wait. Yep, there were that many people in the restaurant at that time of the day – definitely a good sign.
They serve brunch until 5, or you can choose from an amazing selection of appetizers, sandwiches, wraps, salads and entrees. With three of us there, we decided to try three different things – that way we could taste a little bit of everything.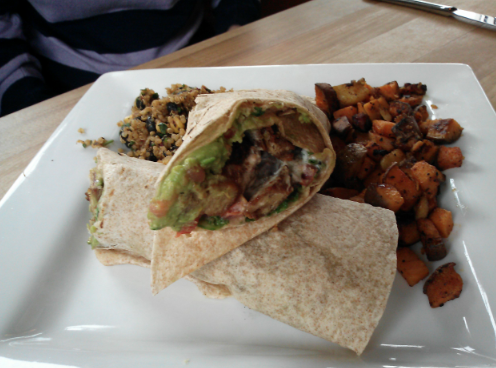 The Dona Lee Wrap – herb crusted seitan, lettuce, tomato, avocado and ranch dressing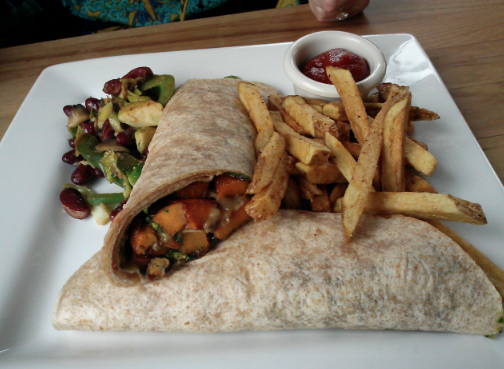 The Juan Wrap – sweet potatoes, mushrooms, cilantro pesto and smoked mozzarella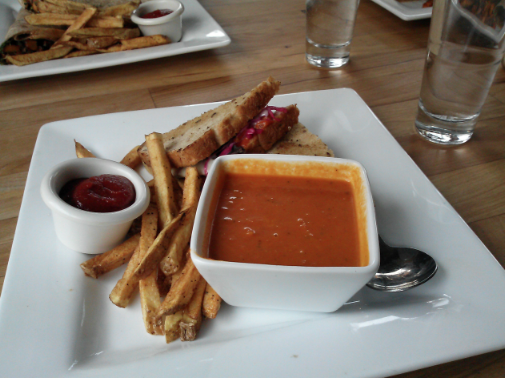 The Reuben – portobello mushrooms grilled with sauerkraut and swiss
Yummmm!
And yes, the sides each sandwich came with were just as good! Andrew tried to lick the Tomato Curry soup bowl, but we stopped him just in time 😉
We brought home one small take home box – simply because Fallon saved half of her wrap to bring for lunch on Monday. The rest was gone – and we enjoyed every scrumptious bite.
We're already planning our next trip back to WaterCourse Foods – to try the brunch menu.