Pizza! Everyone loves pizza. But when you get the kind from the pizza place, dripping with grease, and more meat toppings than veggie toppings, its hard to satisfy your veggie taste buds.
A while back we started experimenting with pizza – gourmet pizza. We've made pizzas with feta and pear, butternut squash, spinach, and more.
As we play around with pizza recipes, the most natural place to start is at the bottom. And so we've experimented with just as many pizza crusts as we have with the pizza toppings.
Unless you buy the crust pre-made, its going to take a bit of time. Dough has to be mixed and it has to rise. There's no getting around that.
But when I'm sitting at my computer finishing up work for the day, the last thing I hate to do is stop for a few minutes to make a crust, and sit around picking pizza dough out from under my fingernails after kneading it for awhile. Kneadless dough – that's the way to go.
And that's what I found to be the best! It takes just 5 minutes to whip up, 2 hours to rise, and unlimited potential from there.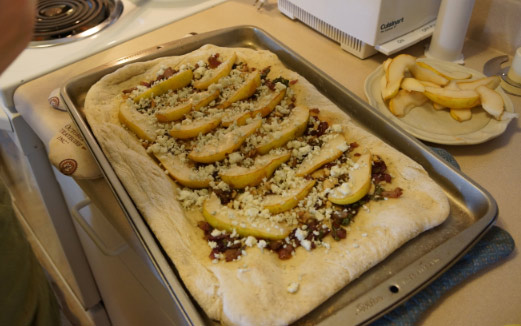 The Easiest Pizza Dough Ever
2015-07-07 15:30:21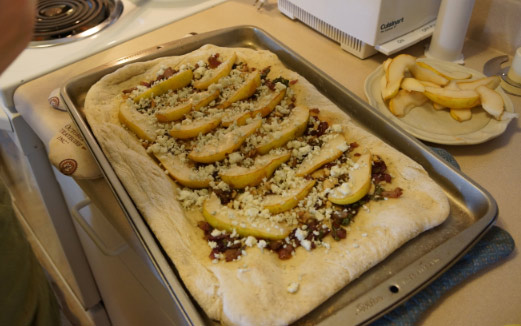 Ingredients
2 1/4 tsp instant yeast
2 1/4 tsp sugar
1 1/3 cup lukewarm water (about 100 degrees Fahrenheit )
3 1/4 cup flour - unbleached and gmo-free, or substitute whole wheat if you prefer)
1 tsp salt
2 tbsp olive oil
Instructions
In a 5 quart bowl, mix the instant yeast and sugar together. Add the water and mix together with a wooden spoon until dissolved.
Mix in the flour and salt. Continue mixing until it forms a stiff dough and all ingredients are thoroughly mixed.
Add the olive oil and mix. Push the dough into the middle of the bowl and smooth to cover the bottom.
Cover with a towel or clear plastic wrap and let sit at room temperature for 2 hours. (I have let it sit for as long as 3 hours and it still turns out perfectly.
When ready to make pizza, turn dough out onto lightly floured surface. Working with floured hands, carefully stretch pizza dough to your desired size. The thinner you get the dough, the better. (Leaving it thicker will make your crust doughier.)
20 minutes before you are ready to bake your pizza, place your cooking sheets or pizza stones in the oven and preheat to 450°F.
I've made the dough from this point forward two ways.
Place pizza dough on parchment paper and shape to the size of the tray/stone preheating in the oven. Top pizza with sauce and toppings. Bake for about 20 minutes, or until crust is golden brown.
Place pizza dough on tray/stone and bake for 10 minutes. Remove from oven, top with toppings and bake for another 10 minutes. This method will create a crisper crust.
TheVeggieTraveler.com - Eating Healthy Vegetarian and Vegan All Over The World http://theveggietraveler.com/