"The Gods created certain kinds of beings to replenish our bodies: they are the trees and the plants and the seeds." ~ Plato, Greek philosopher, 428-347BC
So you started out the year wanting to become a vegetarian. Then a friend invites you to lunch and you head off to a local chain restaurant. And the struggle begins.
Everything on the menu is meat. You ask about vegetarian options, and they look at you a little confused. You can order plain noodles. Or they'll pull the chicken off a salad.
Not a lot of options.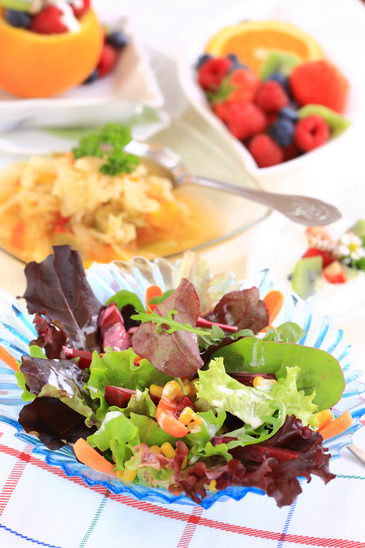 And while you may follow through with your first lunch out and maybe by your second, after continually faced with "boring" choices, its easy to fall back into the "chicken" paradigm. What else are you supposed to do when eating out is a part of your life?
Like any other thing in your life, vegetarianism has to become a habit for it to take affect.
If lunches out with friends are a problem, give yourself a break and focus in on your lunches and dinners in instead.
Eliminate meat from your home
If you've ever eliminated sweets from your diet, you know that temptation is the hardest thing to overcome. If it's not in your home, you won't eat it. The same applies to meat. If it's not in your freezer, it's not an option for a snack or a meal.
Find vegetarian recipes
Planning meals almost always falls to habit. A typical conversation goes like this in our home:
4pm:
"What do you want for dinner?
"I don't know. What do you want?"
"I don't know."
And after more time goes by, we rely on something quick that we can cook up in minutes.
It's hard to find great tasting menu ideas minutes before you're ready to eat.
Instead, plan out a week at a time, choosing things that sound great to you. You can use my favorite cookbook, Herbivoracious, to come up with great ideas. Or head over to Pinterest – you can create a board with great ideas that will motivate you every day of the week.
Do your research
Think back to the restaurants you've eaten at over the last six months. Can you name them on one hand?
We usually fall into the trap of heading out to the same restaurants over and over again. But when you look at them through the eyes of a vegetarian, they probably aren't the best choices.
Expand your horizons and find restaurants that offer great vegetarian choices. With a quick search online, you can easily find a half dozen choices in your community that offer a variety of vegetarian options. Then instead of going along with the crowd next time you're heading out for lunch, make a suggestion instead. Talk up your new find and introduce them to some great new food. Sure, your friends may still choose the meat options. But you'll be happy, they'll be happy, and that's all that really matters.