The first time I heard about GMOs, I didn't think much about them.
Then I attended a presentation about the affects of GMOs. And I started doing my own research. And the more I learned, the more concerned I grew.
GMO stands for Genetically Modified Organism. And most often, it is used when referring to our food supply.
GMO is a process of creating our food supply in a laboratory. The DNA from one species is injected into the cells of another species, with the ultimate goal of making these new species more resilient to drought, rain, extreme conditions, pests, etc. The resulting genes do not occur in nature and have never been created before through traditional crossbreeding methods.
Learn More: Non GMO Project
The problem stems from how GMO foods were introduced into our society. In the US, the FDA approved commercial production of GMOs based on studies conducted by the companies who created them and profit from their sale. In affect large corporations created the process, profit from the process, and make the decision it would become a part of the average American's life without telling the American population what it all truly meant.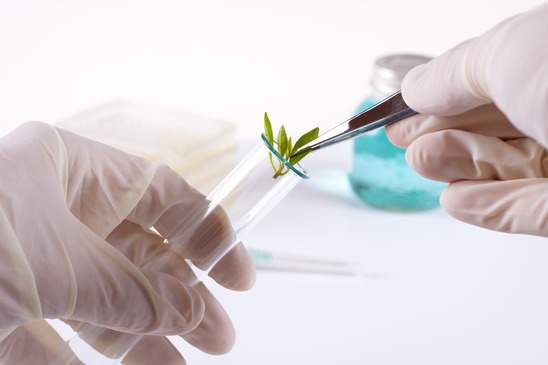 In 30 other countries around the world – Australia, Japan, and all countries in the European Union – have significant restrictions or outright bans on the production of GMOs. Their take on the subject is "until proven safe, avoid at all costs".
But because of corporate funding and profits, our take is "until proven NOT safe, continue".
It's not necessarily about whether GMOs are good or bad. Ask people working for some of the major food production companies, scientists, or even research analysts and chances are you'll find a variety of reasons on why they are good.  What does matter is our right to know what we are eating and the long term affects it can have on our health. We need to understand what it is we are eating, and only then can we make a decision on what we are willing to put into our mouths … and what we aren't.
Poll after poll shows Americans want to know what's in their food supply. And they are beginning to take steps towards getting foods labeled GMO.
Learn More: Organic Consumers Association
Learn More: GMO Labeling Proposition Fails In California
The company responsible for producing most of the GMO's on the market today is Monsanto. Monsanto is the same company that produced Agent Orange during the Vietnam War. They started out as a chemical company, and when they ran into hardships during their lifecycle, they switched to food production.
Immediately the red flags should fly. And rightfully so.
Monsanto owns a patent on seed production. They also have an exclusive deal with Scotts Miracle Gro who sells Round Up. Monsanto currently owns and controls around 90 percent of the seed supply, which means they almost exclusively control our food source. By combing the two – seeds and Round Up – the theory is the plants will be able to produce a healthier output without the need of tending the crops during the growing process with chemicals.
But do you really want chemicals automatically attached to your foods? Not just sprayed on the outside, but actually combined within the fibers of the food itself?
And what happens when the crops become immune to Round Up. Agent Orange of course. Yes, they are now playing with the concept of introducing Agent Orange into the production of seeds.
How has all this happened, especially without the general American population knowing anything about it?  Take a look at this chart, which shows the cross over between people holding positions at Monsanto … and within the Federal government itself.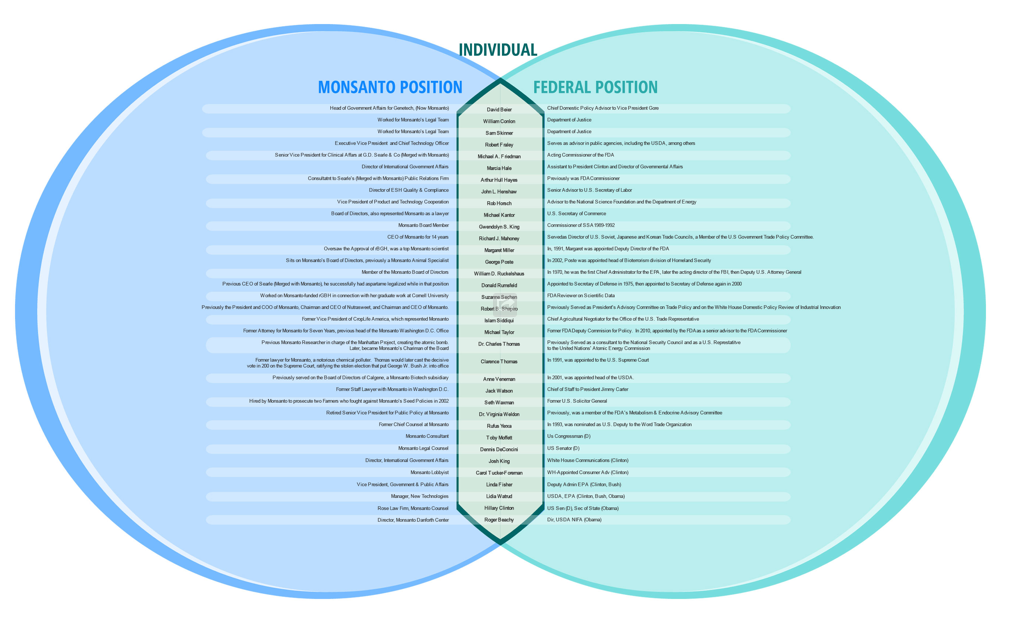 With that kind of crossover, how will things ever change?
Right now, the majority of your pantry includes GMO foods – if you are an American. Top crops include:
Corn – 88%
Soy – 93%
Cottonseed – 94%
Papaya – 75%
Canola – 90%
Sugar beets – 54%
What can you do?
To avoid GMO foods, your best option is to buy USDA certified organic products, which prohibit the use of GMOs.
Support labeling GMO foods. In the coming months and years there will be plenty of legislation introduced to make it a requirement to label foods produced with GMO processes. Let your local government know your feelings. You can also follow the process at Just Label It!