I remember the first time I pulled up a vegetarian recipe and it called for nutritional yeast? What?
The last thing nutritional yeast conjures up is an image of a nutritional, yummy food you happily want to insert into your recipes.
And when we went shopping for it, it didn't look like it was anything special. So for awhile we made the decision not to include it in the recipes we cooked.
But then I did a little more investigation.
Nutritional yeast is made from a single cell organism, Saccharomyces Cerevisiae, which is grown on molasses and then harvested, washed, and dried with heat to kill or "deactivate" it. Because it's not active, it doesn't grow like traditional baking yeast does. And because it's a member of the fungi family, like mushrooms, it makes it edible to vegetarians and vegans alike.
While it still may not be capturing your attention, it will when you consider all of the things you can do with it. Nutritional yeast has a cheesy, umami-like flavor that makes it a great addition to anything you cook. But it gets even better, because it has even more benefits than cheese, so much so that even if you're not vegetarian you'll like what it offers. It can give your mac n cheese more flavor, add creaminess to your potatoes, or can simply be blended in to all kinds of sauces to add more B vitamins to your daily intake. It's even a great addition to the gluten-free diet because it's wheat and dairy free.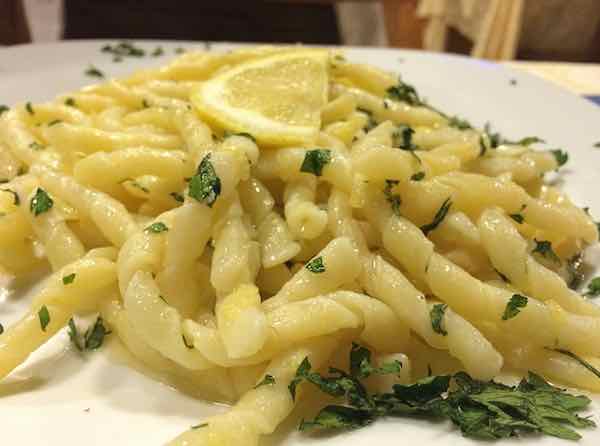 What should you look for when buying nutritional yeast?
Nutritional yeast is not something you will find in a typical grocery store. Yet most larger cities these days have an ample amount of grocery stores that cater to natural or healthy foods. Try Whole Foods, Sunflower, Vitamin Cottage, New Seasons, to name but a few I've come across in my travels.
In some cases you'll find nutritional yeast in bulk bins. Look for "vegetarian support formula".
You can buy Red Star Vegetarian Support Formula because it is fortified with vitamin B12 and it contains no whey, which is an animal product that some other brands choose to include.
Bob's Red Mill brand also has a vegetarian product, and you can usually find it in the natural foods section.
Or if you simply want to order it online, head to Amazon and try out the few brands it has on site, including the Red Star brand. Some brands taste better than others, so you'll have to try several to find the perfect blend for you.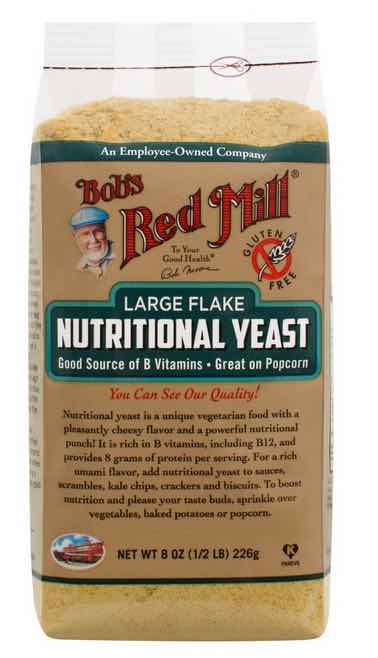 Nutritional yeast comes in power and flaked versions, each can be used in a variety of ways. Typically the powder is more concentrated, so you'll use about half the amount.
So what about the nutrition?
Nutritional yeast is considered a superfood, which is why you'll find it in a ton of vegetarian and vegan recipes. For 2 tablespoons of nutritional yeast, you'll find:
Protein – 8 to 10 grams, depending on the brand
Fiber – 4 to 5 grams, depending on the brand
Carbohydrates – 4 to 9 grams, depending on the rand
B1, Thiamine – 640% DV
B2, Riboflavin – 570% DV
B3, Niacin – 280% DV
B6 – 480% DV
Folate – 60% DV
B12 – 130% DV
Zinc – 20% DV
Magnesium – 6% DV
Manganese – 6% DV
Copper – 6% DV
Where can you use it?
Whether you purchase nutritional yeast in powder form or as flakes, it's easy to add to just about any recipe. With just a bit of olive oil, you can combine it into all kinds of different foods, and change the flavor, giving it some zip. Think of it as the dressing to your veggies, almost like you once thought of in the same manner as that old world Velvetta (what is that stuff anyway?) ? I've even seen it referred to in more than one article as "hippie dust", so don't say I didn't warn you it can become a bit addictive.
You can keep it simple – mix it in rice or pasta, sprinkle it on garbanzo beans, add it to your scrambled tofu, or even shake it over your popcorn. Yum!
Still not convinced nutritional yeast should be sitting on your shelves at home? While you'll find it in a variety of vegetarian and vegan recipes you try, let me give you a super easy one – and it's a dessert too.
Try these Vegan Peanut Butter Cups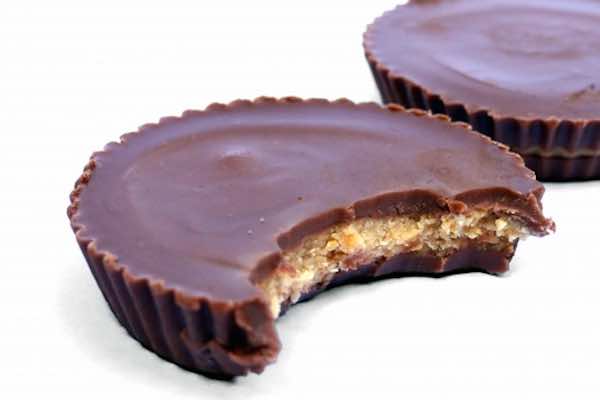 Vegan Peanut Butter Cups
Have you tried nutritional yeast? Do you prefer the powder or the flakes?