All of a sudden, you have become a vegetarian.
You watch movies and read books and start to look at the world through different colored glasses.
You question your food supply. Is it really okay to eat foods that don't specify "vegan" "non-gmo" or "organic"?
Can you eat out with friends? What do you do when they want to go out for ice cream?
Over the weekend, my daughter and I were out shopping. As we drove into a shopping area close to our home, signs were everywhere advertising a new ice cream store.
So we started talking about ice cream and the fact we haven't had ice cream in over a year now. We don't miss it. Truthfully, we don't want it. There is no desire.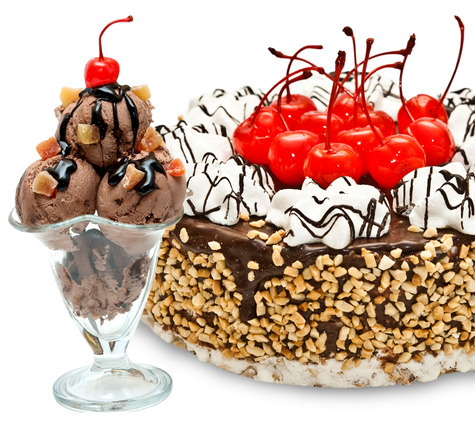 But does that mean you shouldn't eat it?
Nope, not at all.
Food is what you want it to be.
From the moment my daughter was born, I never have used the word "diet" in its modern day definition.
Diet started out meaning the foods you consumed in order to live. Then it changed. Today, diet is synonymous with meaning reducing your food intake in order to lose weight.
The more you focus in on the foods you can't eat, the more you'll crave them. We all want things we can't have – that's what makes limited marketing work so well. If we can't have something, the more we want it.
Tell yourself you can't have an ice cream, and you'll do everything you can to get it.
But once you give yourself the right to have it, and you learn all about it, what it does to your body, what its made of, what it will cost you in terms of your health, your desire for it changes.
As a vegetarian concerned with what is in our food supply, my daughter has started expressing concern for what she will eat in college next year. She's been on their site and knows they offer full selection of vegetarian and vegan options. She knows they even have organic. So they have options. Yet in many cases, they may not have all the options we currently bring into our own home.
And that's okay. The only way to move forward and enjoy life is to make wise choices.
We come to understand we should select the sorbet instead of the ice cream with candy bits. The choice is ours.
Just like we come to know we should select the organic stir-fry instead of the steak. Again, it's an option.
If you want to go out for pizza with friends, just avoid the "meat lovers" and enjoy the vegetarian. Yes, it may have "gmo" vegetables. But you won't eat it every day. You can make wise choices every day of the week … and eat as healthy as possible on the days you don't have access to other things.
Until we can get the best food possible everywhere, it all comes down to making the best choice possible under the circumstance. The more you learn to choose wisely, the better you'll feel. Making your choices that much easier.