Did you know that a large portion of cells in our human bodies are microbial cells?
And since our diets directly impact microbial cells, we really are what we eat.
The human cell is the basic structural, functional and biological unit of all living organisms. It's the smallest unit of life that can replicate independently, which is why they are often called the building blocks of life.
While the number of microbial- or bacterial – cells vary greatly from person to person, they can consist of up to fifty percent or even more. Bacteria is something we associate typically with the bad; however, good bacteria is also necessary for a fully functioning system. And the good news is you can cultivate new microbiota, also known as gut flora, in about 24 hours of time.
Bacteria that live in our intestinal tract, also known as gut bugs, flourish when we ingest colorful plant-based foods. By changing what you eat, you may be able to change their functionality, allowing them to thrive.
The gut bugs have an important job in your system. When they are healthy, they control how quickly our bodies digest and absorb nutrients, synthesize certain vitamins, and fight off unwanted intruders such as influenza and carcinogens. They send messages back to your brain to help regulate your metabolism. They also help combat many health problems plaguing the human body today, such as obesity, type 2 diabetes, heart disease, and even some types of cancers.
Without gut bacteria, we wouldn't exist. They are a critical part of making us human. They are an essential part of our health.
Ongoing research is finding that when people are sick, the bacteria that lines their intestines changes and is proportioned differently than healthier people. The more we learn about it, the more doctors will eventually be able to pinpoint what is a healthy level of bacteria and what isn't. That may eventually be a first clue to discovering when something is wrong with our systems, and point to a higher risk or presence of certain diseases.
Some evidence suggests that it isn't always about more bacteria that makes you healthier. It may be the diversity of bacteria instead. The more diverse the bacteria, the more it can break down lots of different food sources, produce different molecules that help your immune system, and produce molecules that give your brain the energy it needs to function and thrive.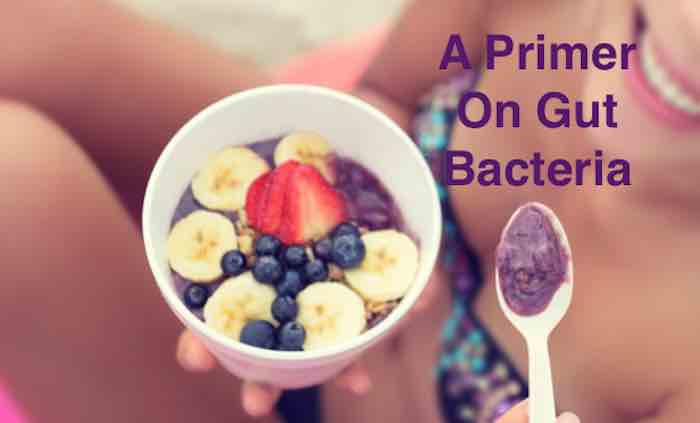 In order to introduce a diverse amount of bacteria into your gut, you'll have to introduce the best food sources into your body. Following a diverse plant based diet will introduce many of the essential vitamins, minerals, and antioxidants your body needs. There are certain foods that are better than others:
Bananas
Bananas help restore bacterial health and may reduce inflammation. Bananas are the peacemaker of the food world, working to maintain harmony among the microbes in your body. This is one reason bananas are a standard food prescribed for an upset stomach. They reduce inflammation through high levels of potassium and magnesium.
Cruciferous vegetables like broccoli, kale, cabbage and cauliflower
Cruciferous vegetables contain sulfur-containing metabolites – glucosinolates – with are broken down by microbes to release inflammation. They may also reduce risk of certain cancers like bladder, breast, colon, liver, lung, and stomach. Glucosinolates latch onto carcinogens in the colon and lead the way out of your body.
Blueberries
While berries in general always make the superfoods lists, blueberries always inch their way to the top because of their ability to modify the microbiota to enhance immune function. Blueberries are filled with good things for your body, like antioxidants, vitamin K compounds, and lots of fiber. They may help strengthen our memory, improve our immune system, and diversify our gut bacteria.
Beans
Any legume will help release short-chain fatty acids that strengthen your intestine cells and improve absorption of micronutrients. Beams feed good gut bugs, which will improve your immune system. When comparing them to many other food sources, beans offer an amazing amount of fiber, protein, folate, and B vitamins, which not only impact and regulate a healthy gut, but help keep your brain healthy too.
Fermented plant based foods
Fermented plant based foods include sauerkraut, kimchi, tempeh, even soy sauce. There's a reason you're hearing more about them. They directly give your gut healthy live microorganisms that will eliminate unhealthy bacteria and improve the absorption of minerals. They've been proven to help improve the health of intestinal cells, immune function, decrease allergies, and reduce the risk of certain types of cancer (colon for example). They are easy to make at home, or you can pick them up at your favorite market. Just be sure to read the labels to keep them healthy as possible.
Let's Talk Probiotics
You can't have a conversation about gut health without also talking about probiotics. Probiotics are live bacteria and yeasts that are good for your health, especially for your digestive system. They are found naturally in your system, and are introduced through a variety of food sources, including the ones listed above. The study of probiotics is still relatively new, with doctors and researchers trying to figure out exactly how they work to keep you healthy.
Probiotics help move food through your gut. As they do this, they benefit all kinds of health issues within your body. They can help with:
Skin conditions
Urinary and vaginal health
Preventing allergies and colds
Irritable bowel syndrome
Infectious diarrhea
Oral health
And much, much more
While one of the best ways to introduce probiotics into your body is through good, nutritious foods, there is also an upswing of probiotic supplements coming onto the market every day. You can buy them in tablets, capsules, powders and liquids. But what should you look for?
When it comes to probiotics supplements, you have to look for something else: prebiotics.
Think of prebiotics as the food for probiotics. Prebiotics aren't digested by the human body, rather they work at aiding in the delivery of probiotics to the rest of your body. Prebiotics keep the good bacteria alive while the good stuff is delivered to the rest of your body.
Probiotics will only do your body good if they are processed into your system. And without a prebiotic, they will never survive the stomach acid and move beyond to your digestive system.
One of the best sources of probiotics is yogurt. It's filled with good bacteria such as lactobacillus or bifidobacteria. That's what the term "live or active cultures" means on the label. Don't be fooled into thinking you have to consume yogurt with dairy; there are many vegan yogurt options that do just as much good. Or consider making your own.
Prebiotics occur naturally in foods such as leeks, asparagus, chicory, Jerusalem artichokes, onions, wheat, oats and soybeans.
By marrying the two, you ensure your body is not only getting the benefits of the good stuff in each food source, but also ensuring the probiotics go to work on your system keeping it in top shape.
If you have a diet rich in plant based foods, and you introduce a variety of foods into your system every day, you're probably getting the prebiotics you need. However, if you are looking at supplementing with probiotics, it's important that they include a prebiotic in them to help keep bacteria alive and extend the products' potency. Read your labels.