TheVeggieTraveler is all about living the vegetarian lifestyle; cooking at home, eating out at restaurants, and traveling around the world while enjoying vegetarian cuisine. We made a conscious decision to learn more about what we're eating, how it impacts our bodies, and what we can do to improve the choices we make every day. After all:
"Let food be thy medicine and medicine be thy food." ~Hippocrates
It's a quote we can live by!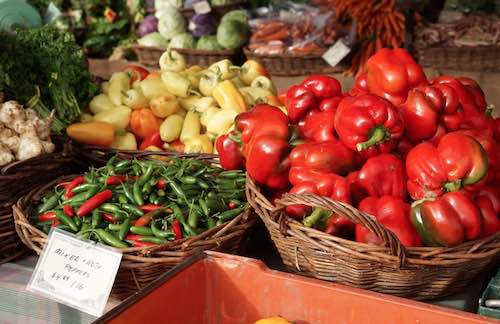 TheVeggieTraveler has been a work in process for the past 20 years. Before our daughter was born in 1995, we grew concerned about the frequency of reports of mad cow disease. We started questioning what was happening to our meat supply, and consciously made the decision to go "red meat free" during my pregnancy.
From there, our daughter took the reins of vegetarianism, and has literally changed the way we look at food as a family.
When we consciously made the decision to go red meat free, I never really thought much about vegetarianism until my daughter declared herself vegetarian at the age of three. I knew I was in trouble when my little girl looked at the chicken breast on my plate, and asked me in her sweet voice, "Mommy, does it hurt the chicken when you stab it with a fork?"
So I set out to find out more about this foreign frontier. I wanted to make sure my growing child got the necessary nutrients and protein her little body needed. I invested in an entire library of cookbooks and how to books describing the vegetarian lifestyle in more detail.
I watched movies. I took in documentaries. And I learned. And the more I learned, the more I adapted to the vegetarian lifestyle as well. I questioned the ethics around eating meat. And I questioned what the government guidelines and regulations on food we're doing to our health.
In 2012, I fully moved to the vegetarian lifestyle myself and even though my daughter has been a vegetarian for years, I now realize I never completely understood life as a vegetarian here in the United States, and across the globe.
It's hard heading out to restaurants in this "meat crazy" land. And even though I watched my daughter struggle to order off the menu when we headed out to eat, I never fully understood it until I faced it myself.
Through grade school and even into middle school, she was the classic picky eater. Her food choices centered around cheese – mac n cheese, grilled cheese, cheese sticks. Though she liked salads and fruits, she never branched out beyond the basic kid friendly foods. That all changed when she entered high school.
Once I learned more about what good food can do for you, I cleaned out the pantry and the refrigerator, and began only buying REAL foods. We skip the processed foods, and eat only natural organic non-GMO foods. One of my favorite memories is when we stuffed our refrigerator full of veggies after a visit to the local farmers market, and my daughter opened up the refrigerator and said "Gee, what's for lunch?" She even had to Snapchat a photo of the refrigerator to her friends!
Cooking is easier than going out to eat every night, especially when you know its better for you. And while we still value opportunities to enjoy a great meal cooked by someone else, we're more conscious than ever about choosing the best restaurants we can.
Our goal is to live to be 100, while living in a 29 year old's body.
We're tired of the obesity issues.
We're tired of the diabetes issues.
We're tired of the heart disease issues.
We're tired of the cancer issues.
With everything we've learned over the past 20 years, we can't sit by the side of the road any more and not share a few of the things we've learned.
This is a work in progress. With so many new things coming out every day about what we eat and how it effects our bodies, we want to learn and share and grow right along with you. If you want to learn along with us, be sure to sign up for our email and come along for the ride. We'd love to share and learn with you!
Lori and Andrew