We're a nation full of meat eaters. And because meat eating is promoted from the top down, we make automatic assumptions about what we eat and how it affects us.
The USDA creates and promotes what they consider to be a healthy diet. They teach it in the school systems. And they promote it throughout the population. Even though the concept has changed a lot over the years, the basic groups still exist: everyone needs fruits, vegetables, grains, dairy, oils and protein in order to exist. And because they work in conjunction with traditional protein groups – dairy, meats, poultry, seafood – the underlying belief is that you have to get your protein from meats.
I fell into that belief when my daughter declared herself vegetarian at 3. Doesn't a 3 year old need plenty of protein to grow up healthy? What about her growing body, will it be strong and healthy without traditional protein groups?
I immediately began questioning whether it was possible. I didn't want my little girl suffering as she grew from a toddler, to a tween, to a full grown woman. Especially as she headed into puberty, I wanted to make sure she was taking in enough protein to ensure good health throughout her growing years.
I talked with her pediatrician. She told me the average person needs between 40 to 60 grams of protein each day, depending on how active you are. For a teen the best way to determine the approximate amount of protein is to take your weight times 0.36 to determine the number of grams needed. So a 120 pound teen would need about 43 grams of protein each day (120 * 0.36 = 43.2). So where can you get this much protein?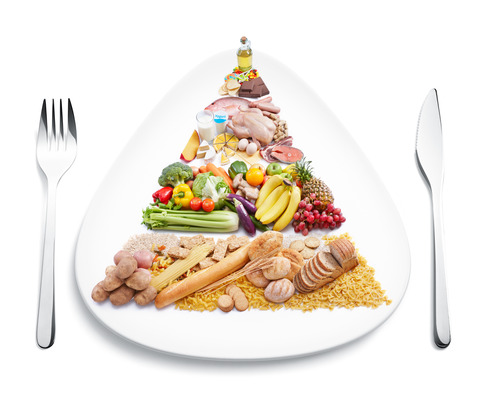 ½ cup Tempeh – 15 grams
1 cup yogurt – 11 grams
½ cup tofu – 9 grams
½ cup cooked lentils – 8 grams
2 tbsp peanut butter – 8 grams
½ cup kidney beans – 8 grams
1/3 cup hummus — 6 grams
½ cup quinoa – 4 grams
¼ pound pasta – 14 grams
¼ cup almonds – 8 grams
1 cup broccoli – 4 grams
1 cup tomato sauce – 4 grams
1 cup soy milk – 9 grams
Yep, protein can come in all kinds of forms.
Which means if my child eats like a normal child, she may eat the following during a day:
Soy milk on her cereal – 9 grams
Peanut butter sandwich – 8 grams
Yogurt for lunch – 11 grams
Pasta for dinner – 14 grams
Plus all the other things that go into her diet, she can easily achieve the 43.2 grams needed for her developing body.
There are plenty of rich protein sources available – and just because it isn't listed here, doesn't mean it doesn't have protein. Cheese. Bread. Vegetables. Rice. At every meal, protein exits.
Looking at the numbers definitely made me feel better. And just like eating a variety of foods help you get your vitamins and minerals, eating a variety of foods will also give you the protein you need.
This works for us as a family. Your needs may vary depending on your age, gender, build, genetics or activity level. And of course, you should always talk with your doctor if you have any questions.