This past weekend, the heat raged on. Hitting our tenth consecutive day above 90 degrees, I knew the nightly dinner routine would NOT include turning on the oven.
Before I made the switch to a vegetarian diet, we would visit PF Changs every couple of months when I got a craving for their Shrimp with Candied Walnuts entree. What I loved the most about the meal was the delicious combination of the walnuts together with the cool taste of cantaloupe, all mixed together with a savory sauce. That idea came to mind this weekend as I looked for a way to combine that taste … in a delicious and good-for-you vegetarian recipe.
Bulgur is a wheat based cereal grain; you can find it in the bulk foods at your local grocery store. It's easy to work with and makes a hearty meal when combined with other ingredients. One bite and we were hooked – this won't be a recipe just for the days over 90.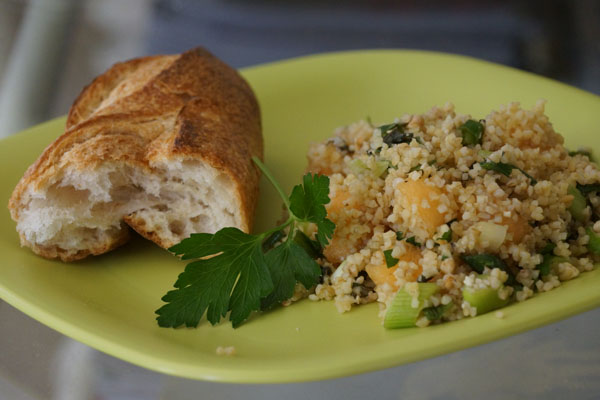 Cantaloupe and Bulgur Salad
2015-07-06 12:02:05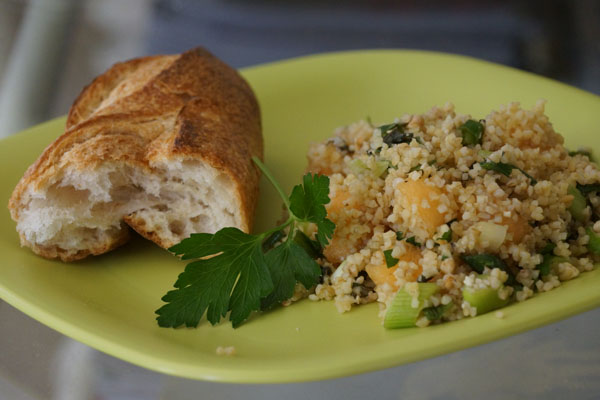 Serves 4
Ingredients
3/4 cup orange juice, fresh squeezed if possible
2 tablespoons fresh lemon juice
2 tablespoons water
1 cup bulgur
2 tablespoons olive oil
1 tablespoon red wine vinegar
salt to taste
ground pepper to taste
4 scallions, white and green parts, thinly sliced
1/4 cup chopped fresh parsley
1/2 cup chopped fresh mint
2 cups cubed fresh cantaloupe
1/2 cup chopped walnuts
Instructions
In a medium saucepan over medium heat, bring the orange juice, lemon juice and water to a simmer. Remove from heat and let cool for 5 minutes. Add the bulgur, stirring well to combine. Let stand until the bulgur has absorbed the liquid and feels dry, about 30 minutes. Stir occasionally.
In a large bowl, whisk together the oil, vinegar, salt and pepper. add the scallions, parsley, mint, stirring well to combine.
Add the bulgur and stir well to combine. Let stand 10 minutes to allow the flavors to blend.
Add the cantaloupe and walnuts and toss gently to coat. Season with additional salt and pepper to taste.
Serve at room temperature. Or for a variation, chill for a minimum of 2 hours to serve cold.
TheVeggieTraveler.com - Eating Healthy Vegetarian and Vegan All Over The World https://theveggietraveler.com/