My very first vegetarian cookbook was a huge book hundreds of pages in length, with some of the most difficult recipes around. I tried cooking some of them, but after hours in the kitchen and dozens of failed attempts, it went in my pile on top of the cupboard space collecting dust.
Thanks to the Internet, I slowly started growing my list of recipes I could depend on. Then I found the best cookbook ever – Herivoracious. That cookbook changed the way I thought of vegetarian forever. The recipes were easy to make, and tasted DELISH. We couldn't get enough!
That cookbook (which I've tried the recipes from front to back – every one of them is excellent) changed the way I thought about vegetarian recipes. It also gave me insight to how to find the good cookbooks from the not-so-good (in my opinion anyway). Here's a growing list of my favorites. These are the cookbooks I have on my bookshelf. (Okay, they're actually in my Kindle, but it's the same principle.)
Herbivoracious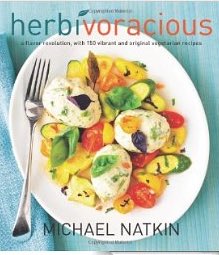 My first favorite vegetarian cookbook, and still the one I go to when we want an old favorite. The recipes are easy, and with just a little planning, you'll have everything you need right in your own pantry. This to me is a crossover book, helping non vegetarians realize good food doesn't have to have meat in it. Try the White Bean and Kale Soup, the Rice Vermicelli (bun) With Ginger Grapefruit Sauce, or Shiitake Tacos with Asian Pear Slaw. Yum!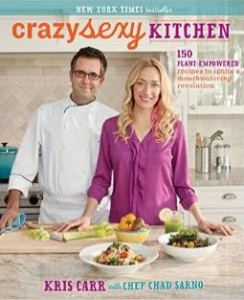 Crazy Sexy Kitchen
If you don't know Kris' story, you can start with her book Crazy Sexy Cancer book all about surviving cancer by changing her diet and her lifestyle. It's a great read. She provides not only the story of how she rallied back from stage four cancer, but the process she used to get there. She also provides a lot of tips and resources for you to learn about how to eat healthier and prevent disease long before you hear it diagnosed from the doctors' offices. From there, dive into her Crazy Sexy Kitchen book where she gives you plenty of recipes perfect for eating on the go. Proving once and for all that vegetarian diets can be sexy!
The Tropical Vegan Kitchen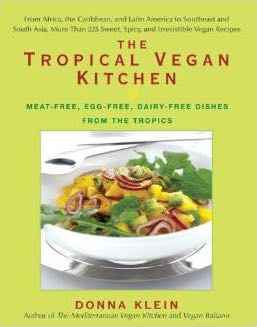 This cookbook had me at tropical. Even on the coldest of days, if you add a little pineapple or mango to something, it suddenly transports you off to a little island hideaway in the middle of nowhere. This book has made one of my staples a pineapple, sitting on my counter and ready for cooking any time of the week. And if black beans and sweet potatoes are a love of yours too, you'll love some of the recipes this book shares. Try the Caribbean-Style Potato Vegetable Curry, Yum!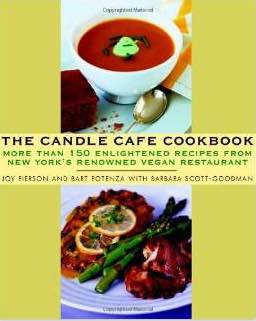 The Candle Cafe Cookbook

There is something about cookbooks created from chef's that own a restaurant that make the food oh so much better. I'd never heard of the Candle Cafe before finding this on my shelves at my local library. (TIP: Head to your local library and try out cookbooks first. If you love the recipes, invest in the cookbook. If not, you don't have a cookbook on your shelves you'll never use again. I've found my best cookbooks using this method.) Yet one look at the recipes told me it was a book I couldn't leave behind. Each recipe is as great as the other – we really haven't found one we don't enjoy. Now I'm looking forward to visiting the Candle Cafe in person the next time we travel through New York.
Vegan Holiday Cooking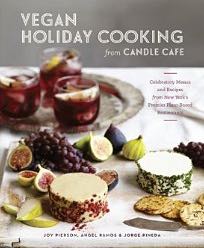 One day last November, I visited my local library and started browsing through the shelves. Each week they create a specially themed table filled with ideas of books to read. That particular week happened to be holiday cooking, and there in the center was a brand new book, Vegan Holiday Cooking. That alone would have caught my eye, but it was from Candle Cafe that made me snatch it off the table and carry it to the checkout desk. After falling in love with Candle Cafe's cookbook a few months earlier, I knew this would be a winner without even browsing the table of contents. It didn't disappoint. And I'm happy to say we had several of the best holiday meals in November and December we've ever had. (And I won't wait for the holidays this year to reuse them again and again.)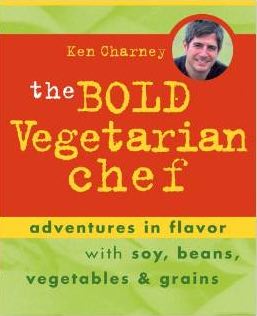 The Bold Vegetarian Chef

I picked this book off the shelves of my local library one afternoon. And after trying out several of his recipes, I went on the hunt for a copy of my own. Ken mixes tofu and tempeh and saitan in ways I've never seen before. And his concepts are so simple and so fresh, I've found ways to use his ideas and modify them to fit our own tastes and flavors. It really is a great book to give you a starting point to cooking vegetarian, with a lot of wiggle room for changing things up and making your cooking your own.