One of my favorite "extras" at our local Chinese restaurant has always been Cheese Wontons. Unfortunately most Chinese restaurants wind up including crab meat in them, making them anything but vegetarian.
A few years ago I started experimenting with my own recipe – one that was easy to make vegetarian or vegan, depending on what you include, and that isn't all that bad for you. Like baking instead of frying.
These wontons are so good and easy to make, you'll be whipping them up a few minutes before your next potluck.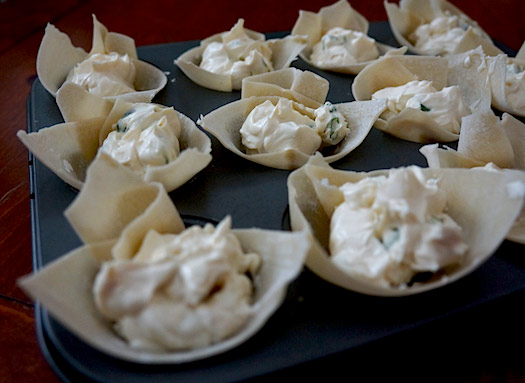 Cheese Wontons
2015-06-24 12:07:07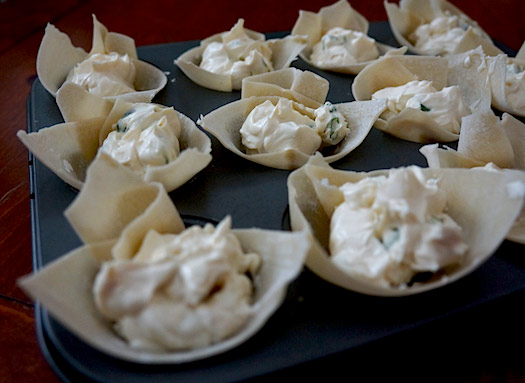 Serves 3
Ingredients
8 oz cream cheese (to make it vegan, use a cream cheese substitute like Tofutti or Sour Supreme)
3 green onions, finely chopped
1t to 1T soy sauce, flavor to taste
12 wonton wrappers
Instructions
Heat oven to 350.
Soften cream cheese. Stir in green onion and soy sauce.
Spray a mini muffin pan lightly with oil – I use my own olive oil spray. Gather each wonton wrap and form it into the muffin tin, folding over the edges as needed. Make sure it fully conforms to the muffin area, with space left over for the cream cheese mixture.
Use heaping tablespoons of cream cheese mixture to fill each cup.
Bake for 10-15 minutes, or until edges are brown and filling is set.
TheVeggieTraveler.com - Eating Healthy Vegetarian and Vegan All Over The World https://theveggietraveler.com/