The long, hot days of summer are the perfect excuse to dive into some wholesome and healthy salad recipes. My go-to salad throughout the summer is this wonderful salad that's as easy to make as it is delicious to eat. Okay, I'll admit it, this is probably my favorite salad … I make it all year long.
This is an easy salad to plan for, especially if you make the farmers markets a part of your weekly routine. Depending on the season, you can find most of the items available at any time. And with just a couple of items from your pantry, you'll be eating (and enjoying) in no time.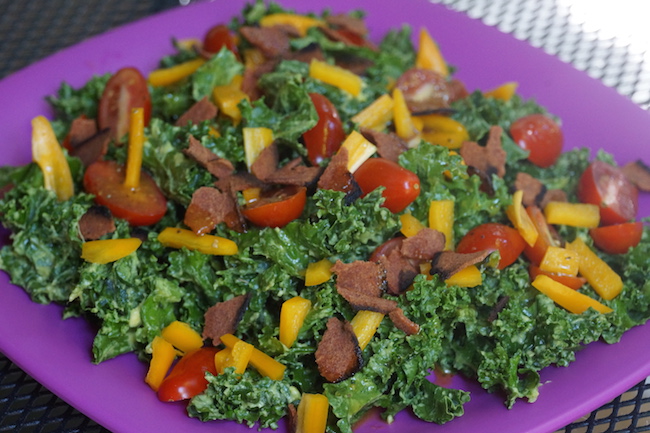 Kale Avocado Salad
2015-06-29 13:15:52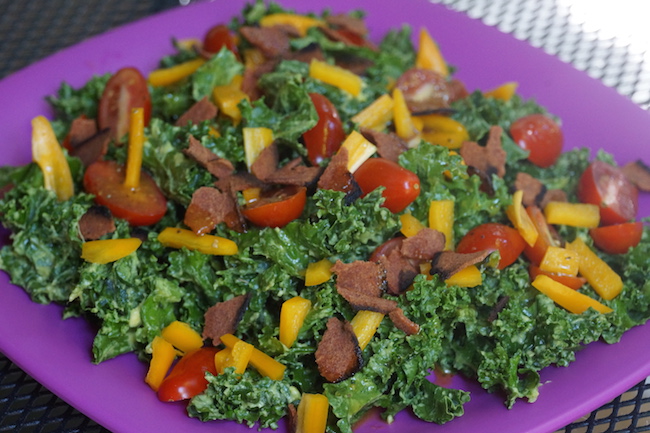 Serves 2
Ingredients
1 bunch Kale (choose the type you like the best, I like dinosaur kale when I can find it)
1 small yellow pepper
1 cup cherry tomatoes, cut in half
1 medium ripe avocado
6 strips tempeh bacon, cooked
1 recipe honey dressing
2 tablespoons honey (use bee free honey for vegan salad)
2 tablespoons coconut vinegar
1 tablespoon Dijon mustard
salt and pepper to taste
Instructions
Cut kale into bite sized pieces, removing leaves from the stems. Cut yellow pepper into bit sized pieces. Cut cherry tomatoes in half.
Place kale into large bowl. Remove avocado from skin and gently massage into kale pieces. Avocado should easily blend into kale leaves.
Divide kale onto two plates. Equally distribute tomatoes and peppers onto plates. Crumble tempeh bacon into small pieces, and equally divide.
For the honey dressing: combine honey, coconut vinegar and dijon mustard in small bowl until well blended. Salt and pepper according to taste.
Spoon dressing over both salad plates.
TheVeggieTraveler.com - Eating Healthy Vegetarian and Vegan All Over The World https://theveggietraveler.com/