Remember the classic food pyramid you learned about in school? Where did it come from? Who invented it? And was the information correct?
The origin of nutrition guidelines can be traced back to Wilbur Olin Atwater, an agricultural chemist who founded and directed the Office of Experiment Stations for the USDA back in the late 1800s. As a researcher, he received government funds to study human metabolism. By 1902, he published articles emphasizing the importance of a variety of healthy foods, and determined that the calorie was a means to measure the efficiency of a diet. He stressed the importance of including proteins, beans and vegetables, and limit intake of fat, sugar and other starchy carbohydrates.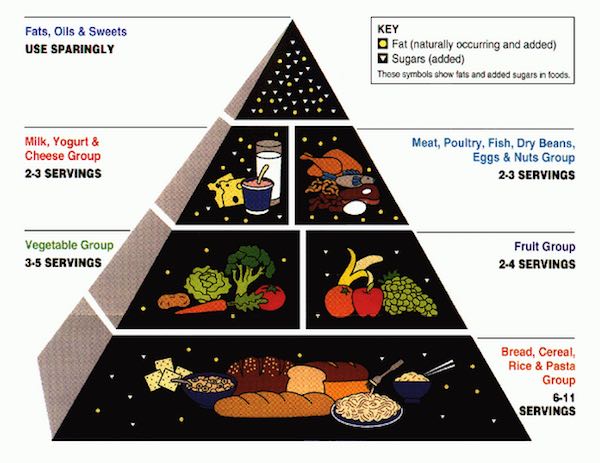 By 1917, the first USDA food guide was produced. Titled How To Select Foods, it was written by a nutritionist within the USDA, and ignored Dr Atwater's advice for limiting fat and sugar intake. Instead, it broke down the guidelines and the categories that emphasized newly discovered vitamins and minerals. It was divided into five food groups:
1. Milk and meat
2. Cereals
3. Vegetables and fruit
4. Fats and fatty foods
5. Sugars and sugary foods

During the depression and to help guide families during wartime rationing, the food groups were increased to twelve. Instead of lumping groups together – vegetables and fruit for instance – they were broken down into multiple categories to serve as a buying guide for the poorer, working class population.
By 1946, the National Nutrition Guide provided nutrition suggestions that supported the recommended dietary allowances guide released from the National Academy of Sciences. This guide listed seven requirements:
1. Milk and milk products
2. Meat, poultry, fish, eggs, beans, peas and nuts
3. Bread, flour and cereals
4. Leafy green and yellow vegetables
5. Potatoes and sweet potatoes
6. Citrus, tomato, cabbage salad greens
7. Butter, fortified margarine
As health became a bigger focus throughout the population, many other contradictory guides began to surface. In order to confront this confusion, the USDA guidelines were reduced to the "Basic Four", with serving size recommendations included as a part of the guide. Categories were:
1. Milk
2. Meat
3. Fruits and vegetables
4. Grain products
Moving into the 1980s and 1990s, the food pyramid changed once again due to a variety of influences. Instead of being referred to as the "Basic Four" as most baby boomers grew up with, it was changed to the more familiar "Food Pyramid" and separated out the fruits and the vegetables:
1. Milk, yogurt and cheese
2. Meat, poultry, fish, dry beans, eggs and nuts
3. Vegetable
4. Fruit
5. Bread, cereal, rice, and pasta
Fats, oils, and sweets make up the top of the pyramid, with the advice "use sparingly" as a guideline.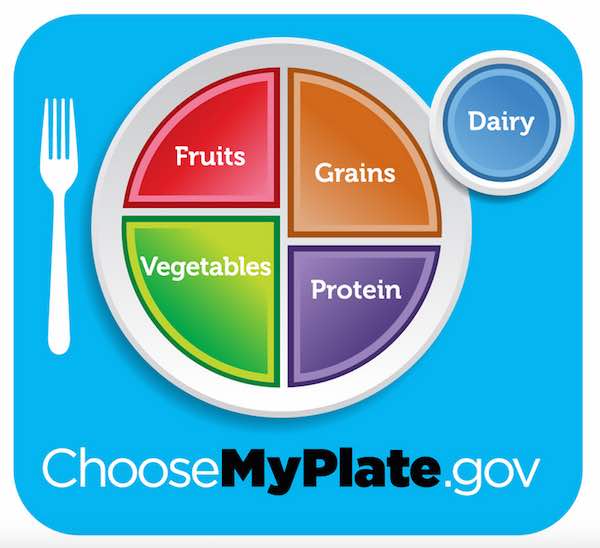 In 2011, the guidelines changed once again. MyPlate was created through an initiative by the USDA and Michelle Obama as a way to gently remind consumers how to make the healthiest food choices for an active lifestyle, and to do so in a way that is graphically easy to understand. MyPlate emphasizes five basic groups:
1. Vegetables
2. Fruits
3. Grains
4. Protein
5. Dairy
They designed their website – ChooseMyPlate – to be interactive and quickly showcase what is included in each food group.
That's a lot of change taking place in the guidelines.
And through it all, two important factors come up again and again:
1. The concept of good food and nutrition is changing all the time
2. Guidelines can be swayed by both politics and the popular vote
Neither which make the nutritional guidelines established a perfect plan to follow for an active, well balanced lifestyle.
Yes, the food pyramids – food guidelines – are a great starting point. And they offer a general idea of what you should know about good eating in the first place.
But overall, nutrition is a subjective topic. It's not perfect, nor should it be relied on to provide you with the perfect meal planning guidance to get you from your baby days to your senior days. If there is anything you can count on, it will change again.
What is the vegetarian food pyramid?
Which brings me to the vegetarian food pyramid? Where did it come from?
The USDA created food pyramid may be a good starting point, but it doesn't go into specifics for people choosing a vegetarian diet.
Refinement has always been the key in establishing a healthy eating plan, and it's where nutritionists continue to focus. The Harvard School Of Public Health, for instance, created its Healthy Eating Pyramid, that not only limits the meats – especially rem and processed meats – but also includes daily exercise as the base of the pyramid.
The current Vegetarian and Vegan Diet Pyramid takes it a step further by including specific plant based foods and the recommended services for each.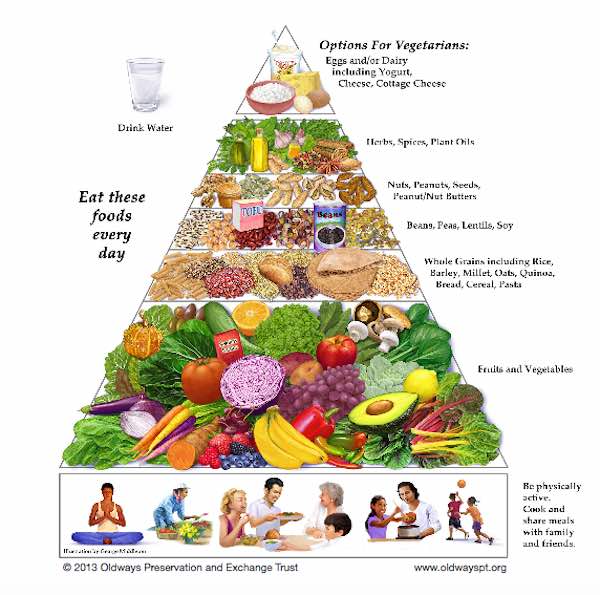 The Vegetarian Diet Pyramid was produced by a world renowned scientific committee to review data on plant based diets and provide recommendations. This pyramid reflects the vast variety of healthy foods that should fit into the daily diet, in order to take in as much nutrition, vitamins and minerals as possible.
Because certain foods are not consumed in a vegetarian diet, it is important to replace the benefits of certain foods with their plant based counterparts.
Iron – Iron deficiency anemia is one of the most common deficiencies in the US. Iron is found in spinach, beans, tofu and fortified oatmeal. If iron is consumed through a plant based diet, it is important to include a source of vitamin C too to help with absorption.
Calcium – Calcium can be taken in by eating dark leafy green vegetables such as spinach and kale, fortified milk alternatives such as soy or almond milk, almonds, and fortified juices.
Vitamin D – Daily exposure to sunlight is a perfect way to start the day. You can also check with your doctor about taking a vitamin D supplement.
Zinc – Vegetarians can find zinc in wheat germ, lentils, beans, peas, nuts and whole grains.
Vitamin B12 – Vitamin B12 is found exclusively in animal food, which puts vegans at risk. You can start by reading my full report on B12 here, and check with your doctor about choosing a supplement.
Is there one pyramid – one guideline – that can guide you through your life in a healthy way? Maybe the best guide is one of common sense.
My goal in the past few years has been to eat foods as close to the source as possible, and to reap the benefits of eating foods highest in nutritional value. Fruits and vegetables don't change shape or content as they move from a farmer's field to the farmers market in my community.
It works for me. What works for you?