My daughter called with an interesting question the other day. It seems she was talking with a group of friends about the benefits of eating organic. She stated we as a family made the switch years ago and eat organic wherever possible. Her friends didn't see the value in it, and thought nothing was wrong with non-organic. So, of course, the questions circulated.
She knew the answers. Still, she called with her questions.
Why is organic better? And more importantly, is this something that is still important today in our society?
According to The Organics Institute, the organic movement is more of a renaissance than a revolution. (I love that statement. How true.) Until the dawn of research and chemicals that took place during the Second World War, all farming was organic. Farmers didn't know anything else.
Then we invented insecticides and pesticides and fertilizers. And with this new "guaranteed" way of farming, the old practices were filed away in the history books.
Yet it didn't stop the questions from forming from almost the moment the first chemical was sprayed across a field. Is this safe? Is this really the best way to farm? Are GMOs okay to eat? Is this best for our environment? Is this best for our health?
Year after year, decade after decade, the organic movement caught fire. Its growth is fueled by customers' demands. The more consumers learn about the potential hazards associated with chemicals, the more they notice considerable changes in their health before and after they introduce organics into their lives, the more demand grows.
For me, our health says it all. My husband and I weigh what we did in high school. Our daughter has one of the thinnest doctor files ever – a comment her pediatrician made over and over again through her first eighteen years of her life. We don't get sick. Combined, the most we've had over the past five years is a mild cold or two; we recover fast.
We believe in the organics movement because it works for us.
That all sounds good. But is there scientific reasons for eating organic? Turns out, there is.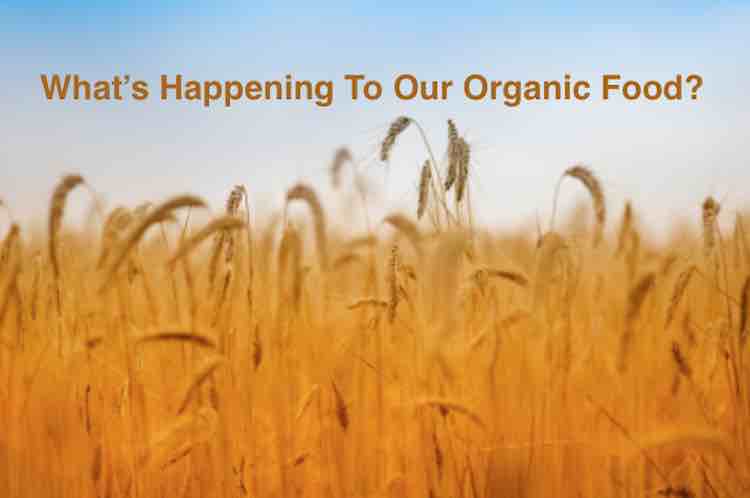 The Difference Between Organic vs Non-Organic
Organic produce is grown with natural fertilizers. That includes manure and compost.
Non-organic produce is grown with synthetic or chemical fertilizers.
Organic produce is weeded using natural methods, including crop rotation, hand weeding, mulching, and tilling.
Non-organic produce is controlled with chemical herbicides that prevent weeds from growing in the first place.
Organic produce believes pests should be controlled by using natural methods, including birds, insects, traps, and naturally derived pesticides.
Non-organic produce controls pests through synthetic pesticides.
The bottom line is non-organic is easier to produce because it relies on chemicals from beginning to end. It places chemicals on the field, chemicals within the seeds themselves, and chemicals throughout the growing and harvesting seasons. Quicker to produce, quicker to market. But quicker isn't always better.
What Organics Does To A Field
A well-designed field that chooses to grow organics relies on crop rotation to keep the ground fertile. It makes it both more productive and more environmentally sustainable in the process. It also works to increase the financial viability of the farm by giving them various production opportunities throughout the year. The advantages are many:
Improved soil fertility
Disease control
Pets control
Weed control
Erosion control
Improved biodiversity
Increased soil organic matter
Increased yield
Reduced commercial risk
When you only grow one crop – over 300 million farmed acres are planted with corn and soy – you run two risks.
1. A single crop isn't good for the soil.
2. You are vulnerable to devastating loss if something should happen to the crop (think potato famine)
If soil is dedicated to one thing, it becomes more susceptible to the many things that can go wrong with the field. Pests can find a way to thrive. Weeds can grow strong and take over. Erosion can occur from the elements. And very quickly you're forced to find a solution to a problem that escalates all the time.
What Organics Do To The Environment
As you can imagine, a plethora of tests have been performed to compare organic farming with conventional farming methods. And while there will always be test results that prove one is better than the other, I found it interesting that the USDA found organic systems to:
Have more fertile soil
Use less fertilizer and much less herbicide
Use less energy
Lock away more carbon in the soil
Are more profitable for farmers
While they found conventional system to:
Have higher yields
Are better at reducing erosion when a no-till system is used
Pretty much what you'd expect, right? And that says it all.
What I know I strive for is to make the world a better place than what I have today. I think that's an important goal for all of humankind. We don't want to destroy what we have, do we?
So when you release pesticides and chemicals into the environment, of course you can expect them to have negative environmental issues. Like allowing disease to build up that wouldn't have been there otherwise. Or to completely contaminate the soil, water supply, and air around it.
With a healthy organic agriculture system in place, it will reduce carbon dioxide and help slow climate change. A search found that if only 10,000 medium sized farms in the US converted to organic production, they would store so much carbon in the soil it would be like taking over 1.2 million cars off the road.
We can work together to do that, can't we?
Still not convinced?
Can Non-Organics Make You Sick?
The problem is we just don't know. And how much are you willing to gamble? Your life is at stake. Do you want to be the 70 (or 80 or 90) year old person in the wheelchair in the nursing home, or continue with an active lifestyle for as long as possible?
Garbage in, garbage out, as the saying goes.
Reports consistently come out showing that people at the top question the safety of chemical use in our food supply.
Does the popular weedkiller glyphosate cause cancer?
We also know that studies have shown that people with occupational glyphosate exposure (farmers) had increased risks for non-hodgkin lymphoma.
And when the amount of chemicals in an area increase, such as when crop spraying is used on genetically engineered crops grown and treated with agrochemicals, public health declines right along with it.
Is it all a lie … or a coverup? Altered Genes, Twisted Truth by Steven Druker with a foreword by Jane Goodall is the result of more than 15 years of extensive research and investigation that reports the FDA:
Covered up the extensive warnings of its own scientists about their dangers
Lied about the facts
Violated federal food safety law by permitting these foods to be marketed without having been proved safe through standard testing
And the research continues even as we speak.
Can you just wash and peel your produce to avoid the situation? As Food Babe says, it's not that easy. Many of the chemicals used on conventional foods are absorbed into the food throughout the growing process, meaning it's deeper than just the peel. If you test non-organic packaged food, almost all of it is filled with GMOs that absorb and contain glyphosate weedkiller. And that's been linked to cancer and other diseases again and again.
There is a new label you can watch for on your favorite products that's as important as the organic or Non-GMO labels you'll currently find. Watch for the Glyphosate Residue Free and Glyphosate In Transition labels coming soon.

So, how do you feel about organic produce? Will you be implementing more organics into your life?